Are you having trouble finding the best romantic getaway for couples in Texas? You don't have to worry about that as we've covered you. 
Texas doesn't look like much of a romantic getaway, but that is so wrong. In Texas, the definition of a romantic getaway means quiet cabins, sunny beaches, and a busy city. 
Here we have listed some of the best romantic getaways for couples in Texas. These getaways range from busy cities to quiet cabins.
Let's see the romantic getaways down below. 
Best Romantic Getaways for Couples in Texas
Hotel Granduca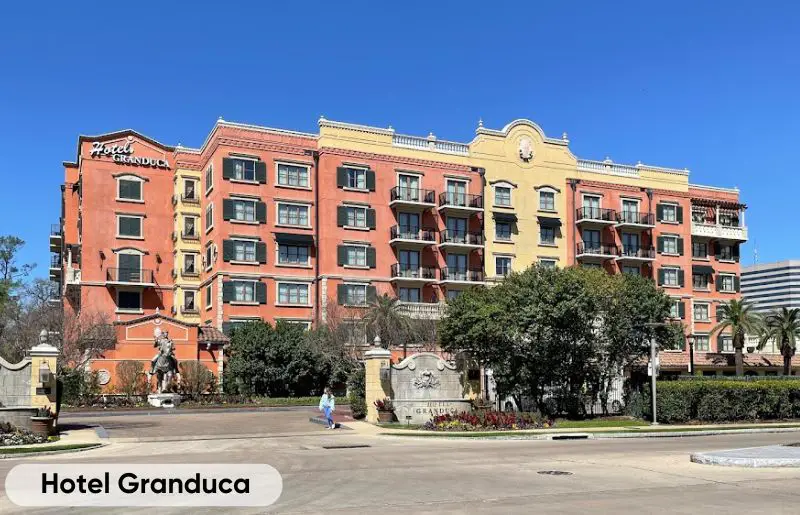 Hotel Granduca provides you with all the necessary comfort and resources for a romantic getaway. The hotel has a total of 122 rooms and suites, made with a mixture of Italian and exclusive designs. 
The hotel isn't just famous for its design and elegant look but also for its renowned winter black truffle and lobster dish. Besides those, the hotel also offers you a designated tea room, a pool to dip in, and many other luxurious amenities. 
If you are up to spending some cash, you can always choose the Residenza Imperatore suite, which is said to be the hotel's best suite. This suite consists of a guest bedroom, an additional bathroom, a soaking tub, a study, and a private entrance. 
The hotel Granduca is located at such a place that you get access to some of the best spots in the state. 
Sage Hill Inn & Spa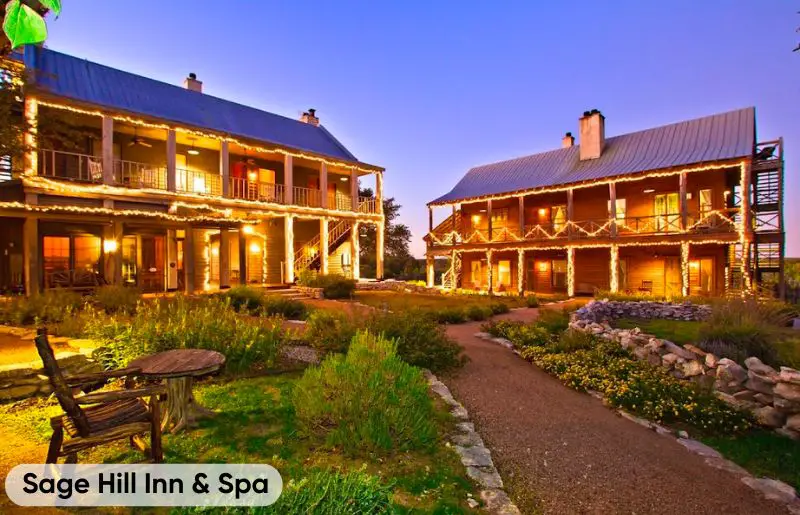 If you and your better half are fans of beautiful sunsets and stargazing, then the Sage Hill Inn and Spa is the best place for you. Most of the rooms in this place provide you with a view of the colorful skies. This place is located 25 miles southwest of Austin, Texas. 
The room rates include on-site dining, consisting of daily continental breakfast and a three-course dinner every night. The inn grows its vegetables in its garden and gets its ingredients from its local sellers. 
Regarding accommodations, they are not lagging in any aspect. Whichever room you choose, you will always have access to a fireplace, a sitting area, Wi-Fi, a faux bed, and a satellite Tv.
Besides these, other amenities also include a library, a deep tissue on-site spa, Swedish and hot stone messages, etc. Body wraps, scrubs, and spas are also included with that. 
The Granbury Cabins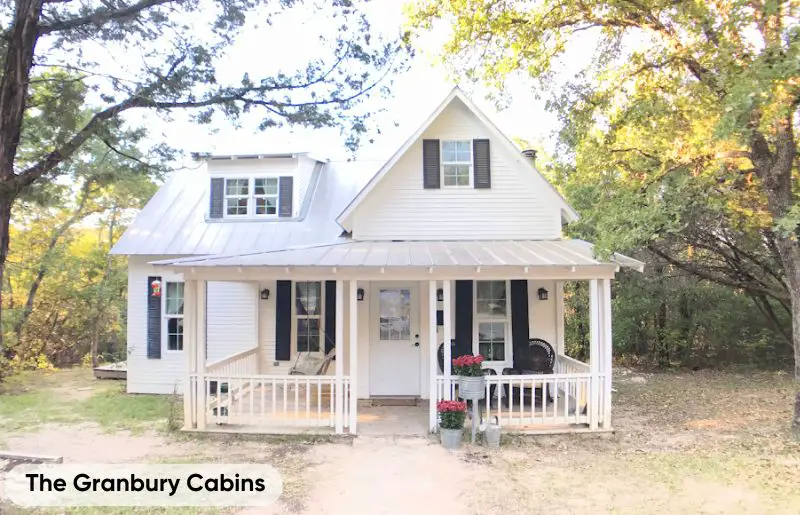 The Granbury cabins are the best romantic getaway for those couples who want to go off the grid. This place doesn't have any Wi-Fi, cable Tv, or distractions of the modern age. The property also comes with a hiking trail, or you can even start a competition at the communal game space with other guests or your better half.
There are three cabins at the Granbury Cabins: The Hideaway cabin, The Dilly Dally Cabin, and The Farmhouse, which are 450, 600, and 800 square feet, respectively. Since the cabin sizes are different, they have different furniture and accommodations. Besides these, all the cabins have antique furniture, fire pits, private hot tubs, a kitchen, etc.
If you are in the mood for kayaking, you can rent a kayak from the lake Granbury marina. Apart from that, local boutiques, museums, and wine tasting places are other engaging activities. 
Lake View Haven
The Lake View Haven is what the name says. Lake View Haven, with a private pool, is the best place for a romantic getaway in Texas. This provides you with your private pool from which the lake canyon and lush hill country are visible. 
These views might seem far away but are as short as five miles away. You can hike the distance to reach the lake and the Guadalupe river. As this is a Mediterranean-type getaway, you can sit by the poolside when the sun goes down and enjoy your time. The weather can be enjoyed from the inside as well.
The lake view haven room is quite spacious and has excellent indoor designs. It also houses a tremendous Pac-man arcade gaming and two pool tables. Besides these, there is a living room upstairs where you can enjoy cable Tv and Wi-Fi. 
Mokara Hotel & Spa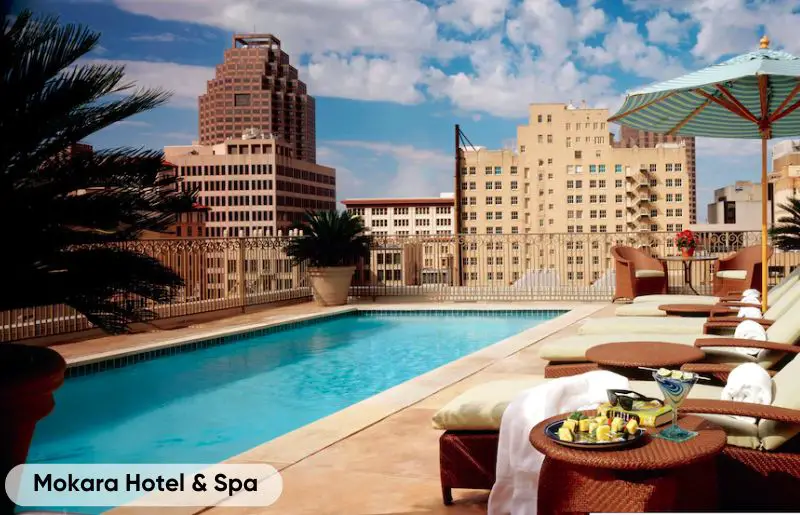 Mokara Hotel and Spa is located near the bank of the river Walk. So, if you are looking for some generosity and calmness, this spot is for you. And if you want to enjoy the view of the river walk with some privacy, then you can choose one of the rooms with private balconies. 
These rooms come with neutral linen, a bed made of wrought iron, large windows, and a bathroom that houses a jetted tub that is big enough for two people. The on-site spa option can last for around 50,80, or 100 minutes. They also have Swedish massages and pedicures. 
There are also many great dining options, such as the AAA four-diamond restaurant, where you can sip wine and enjoy a seafood dinner. If you want to enjoy a great dinner along with pre-dinner appetizers and cocktails, then the famous Mokara's Rooftop cafe would be a great option. 
The Driskill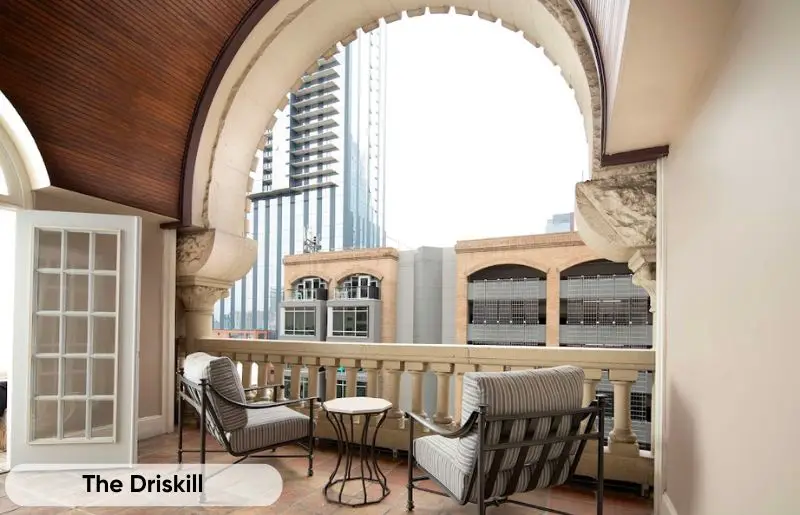 Regarding hotels, The Driskill is one of Texas's most legendary and luxurious hotels. This is one of the best spots for a romantic getaway as it has an excellent and luxurious interior. Though this hotel is said to be haunted, people still flock to it as some consider it a rumor. 
The hotel is located at the heart of downtown, from where all city attractions are easily accessible. If you can spend a little bit of cash, you can choose one of the hotels' suites. One of these suites has a clawfoot tub and a private balcony from where Sixth street can be seen. 
To fill your stomach, it would be a good idea to reserve a table in advance as they are occupied most of the time. The best thing to have here would be drum skills, afternoon tea, a three-course meal, and sparkling wine. 
The San Luis Resort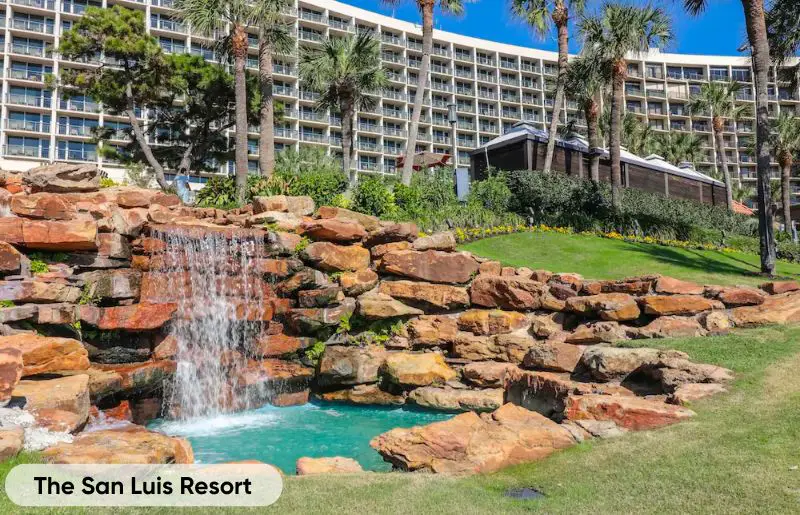 The san Luis resort is the perfect place for people who love to have a stay at a place with an ocean view. This resort is around 32 acres big and overlooks the beach with an opposite spa and a conference center. The best room to stay here would be with a balcony. 
The rooms are pretty spacious with exquisite interior and furniture. This also has a beautiful pool in the middle where you can visit any time of the day. Besides the pool, they have other amenities as well. 
It also houses an award-winning grotto ristorante that makes some of the best house-made pasta. Apart from pasta, you can enjoy tasty steaks and fresh seafood at The steakhouse. In short, the resort has a long list of dining options that you can enjoy. 
The Inn At Dos Brisas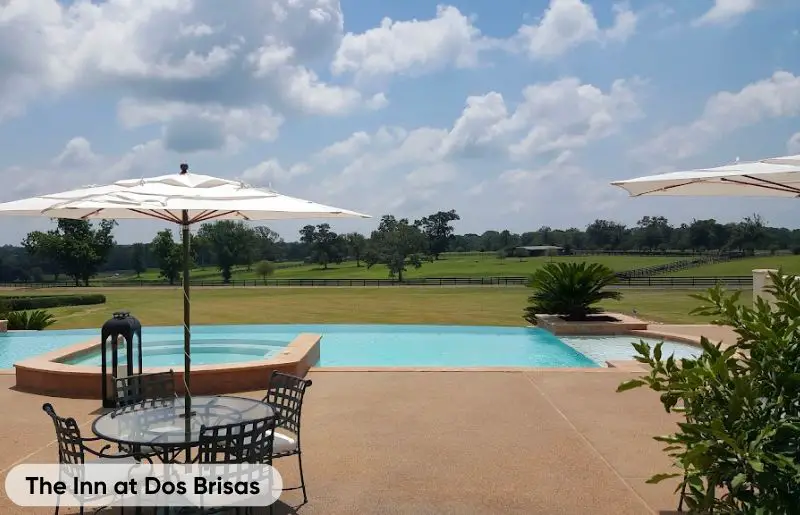 This Inn is spread across an area of 313 acres, with many open spaces. The Inn At Dos Brisas provides a lot of breathing room where you can get lost. You can stay at the Spanish-style cottages, also known as Casitas. The interior is decorated with cathedral ceilings and french doors that open to a private poolside. 
The Inn has a package called Romance on the Ranch that provides a two-night stay deal. This deal consists of a rose petal turndown and a dinner for two at the restaurant of Inn. Alongside that, they will also provide s'mores on the first night. 
Besides these, other amenities such as couples massage, horse ride, and a four-course meal delivered to your cottage directly. 
They also have a five-star restaurant, where food is made from the products made at their farms. The kitchen can pack the lunch for you if you are busy with many activities.
Dripping Springs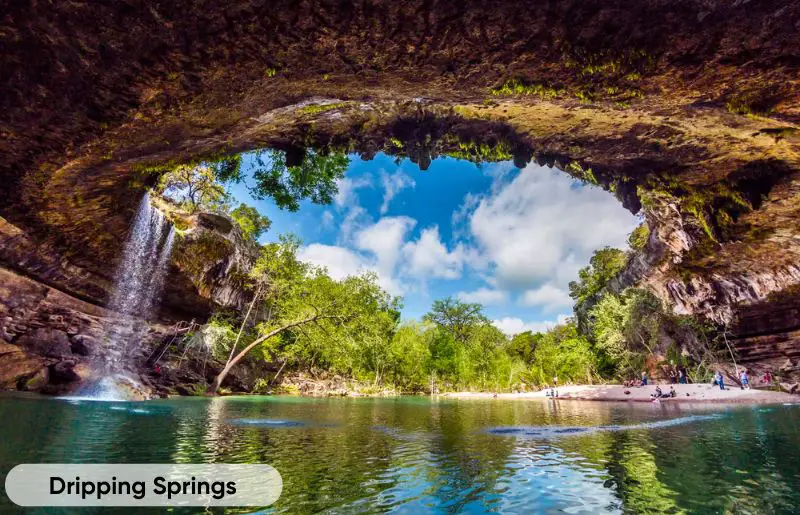 Dripping springs is also known as the wedding capital of Texas. This place is LGBTQ-friendly and hosts around 1000 weddings every year. There is also a 50-foot-tall waterfall that falls into the springs pool. 
A journey to Dripping Springs would be incomplete without sampling the area's local fare. Treaty Oak Distilling delivers exceptional cocktails and service. A guided tour of a nearby orchard will take you to try olive oil and balsamic vinegar.
Though there are limited hotels in the town, they are quite budget-friendly. Along with that, they also have many excellent B&Bs. Bella Nido Bed & Breakfast has a quiet environment, and the breakfasts are marvelous. The Lucky Arrow is another place that can provide you with both food and lodging. 
Camp Lucy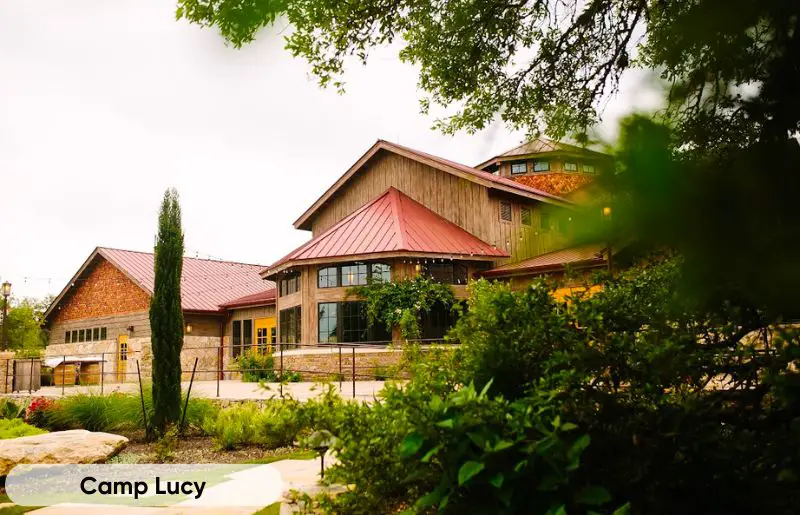 Camp Lucy is the place that will shelter you from your busy routine life. This property is around 290 acres and is located above the onion creak of Texas. This place has single rooms, cottages, and classy suites equipped with all sorts of modern amenities and elegant designs. You can choose whichever you want. 
The place has quite a lot of conveniences, some of which are a bar, pool, restaurant, hiking routes, etc. Besides these, there are other activities such as archery, fishing, spas, and places to spend quietly in the woods. 
Blisswood Bed And Breakfast Ranch
This location provides a private experience ideal for couples looking to spend time alone. The property is situated on the 500-acre Lehmann Legacy Ranch. You can enjoy all of the Ranch's amenities, such as walking, hiking, bike trails, and lovely lakes.
The Ranch also has a private fire pit, a hot tub, and its own fishing pond that can be used for free. Whatever lodging you choose, remember that the nightly rate includes a continental breakfast each morning of your stay.
There are many activities such as knife throwing, fishing, and archery. The Ranch can also d a picnic for you and your better half. 
Collective Hill Country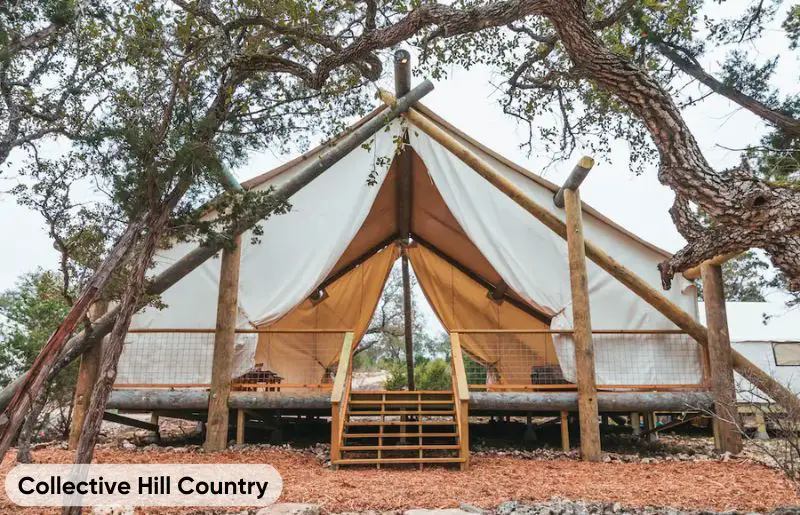 If you plan to spend your time in a tent, then the collective hill country would be the perfect choice for you. Three types of tents are available there, and the best one to choose would be the honeymoon suite. The honeymoon suite is quite secluded and offers a lot of privacy. 
The place also provides a cooked order breakfast that is totally on the house. For other meals, you can choose from the offerings the place offers. There are many activities as well that range from Yoga to horse riding and lots of different activities. They might be a bit expensive, but that is worth the money. 
Wrap Up
So, there you have it. These are some of the best romantic getaways for couples in Texas. Tough Texas has many great places to offer, but we found these places are the best. Some of these places might be expensive, but they are worth it. 
It is always a good idea to have a reasonable budget if you plan a romantic getaway. The reason is that a tight or small budget doesn't provide you with luxurious amenities. If you know of any good romantic getaways that have not been mentioned in this list, then leave them below.