Texas is the state where you get to enjoy sunflowers to the max. The reason is the fact that Texas soil is drier and ideal for sunflower growth. This has turned Texas into a significant player in the sunflower industry.
There are many sunflower fields in Texas that you can visit to spend your day or even get pictures for your next Instagram post. 
So, if you have been searching for the best sunflower fields to visit, then here are 13 sunflower fields in Texas that you can visit. Your family can visit these fields for a day of adventure and exciting activities.
Sunflower Fields in Texas
P-6 Farms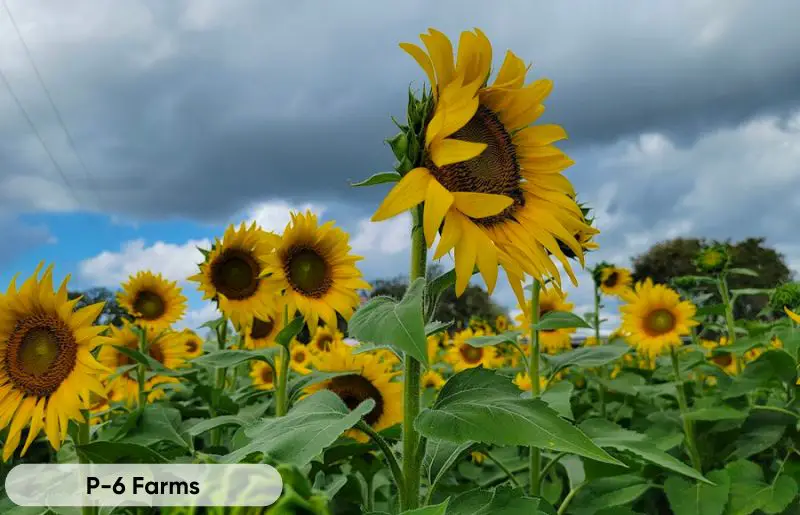 The P-6 Farms is the best place to spend your whole day as it is only about an hour away from Houston. The farm has a yearly festival called The Blooms and Berries fest, which happens during spring. So, if you missed visiting the place during fall, you can go around that time. 
You can check the ticket prices on their website, which changes from time to time. You can also take some sunflowers home in exchange for some cash. Along with that, the event also lets you release butterflies and pick blackberries. Taking pictures here is forbidden, but you can take a few with your mobile phones. 
During other times of the year when sunflowers are around, this place offers many different activities such as gaming. Along with that, you can also pick pumpkin patches, hayrides, etc. 
Dewberry Farm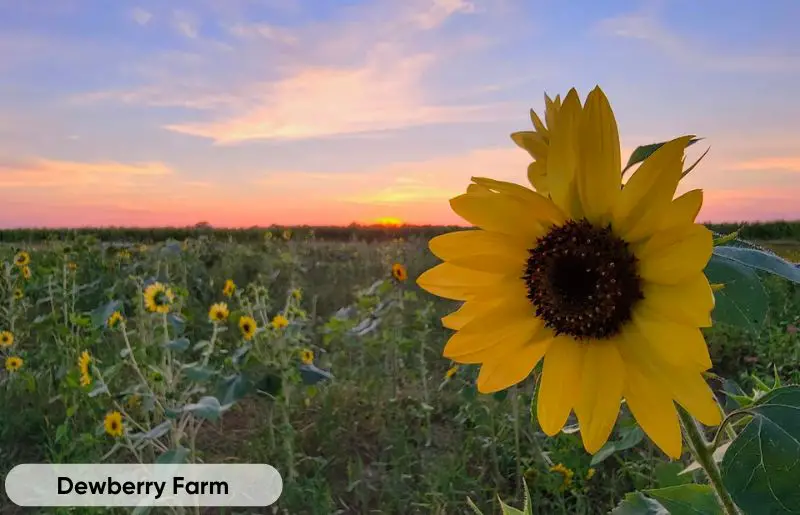 The best time to visit the Dewberry farm is during Spring. This destination is around an hour away from Houston. And it has multiple varieties of sunflowers that ranges from regular yellow to deep red color. Drewberray farm is around 4 acres big, and it's pretty fun to go around the area full of sunflowers. 
Dewberry farms organize a sunflower festival during the spring season, allowing you to pick your own sunflowers. Besides this small activity, you could also participate in carnival games, Gemstone mining, and visiting a goat hotel.
There are other activities here, such as visiting the corn maze and picking pumpkin patches. You can also see the Ferris wheel or carousel if you are adventurous. The place also has a great eatery that will provide you with some great fried Oreos, Kettle Corn, and texas grub barbeque. 
Lone Star Family Farm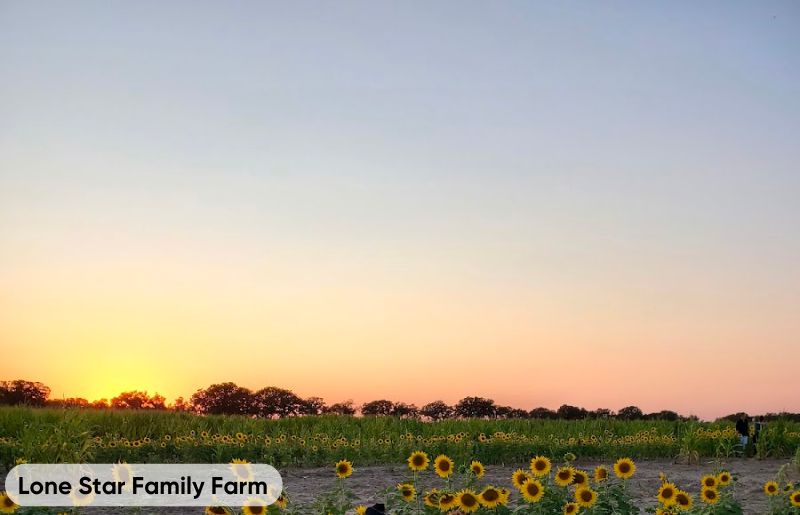 The lone start family farm is where you can enjoy sunflowers during both seasons, i.e., spring and fall. To visit this place, you need to get tickets that cost around $13.50 per person and are free for kids below two. The exact dates are not fixed, but you can visit their website for those. This farm is two hours away from Dallas, and they even organize a sunflower daze festival. 
The sunflower daze festival is organized by them during June and also during autumn. The festival includes quite a lot of activities that range from lots of family-friendly activities and wandering through the sunflower fields. You even get to take as many photos as you want, and before you leave, you get to pick a sunflower as well. During autumn, pumpkin and cotton patches are also available to keep you busy. 
Yesterland Farm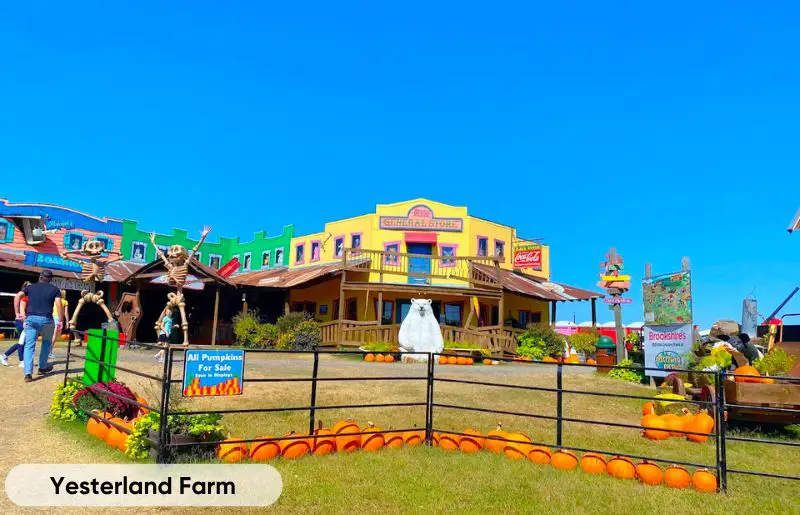 This sunflower patch farm was started in 2020, and it's pretty near and around a 1-hour drive from Dallas. The best thing about this farm is that they arrange their festival at the end of September. This is one of the reasons that make Ysterland Farm a crowd favorite. 
When it comes to activities, they have a bunch of them, but the best activity out of all is the Ferris Wheel, Rollercoaster, and Carousels. The other activities are pumpkin patch collecting and corn maze. This place lets you take as many photos as you want with your family. 
The Yesterland farm festival starts from around easter and goes on till Christmas. The place is family-friendly and can be visited with kids too. You can spend the whole day there and enjoy and roam around as much as you want. 
Bloomer's Garden
If you are big on picking sunflowers and taking pictures among sunflowers, the Bloomer's Garden is the right place for you. This comes at a price, which varies based on the amount. To know about all of that, you need to visit the official website of Bloomers Garden. 
Bloomers Garden is located around 60 miles to the north of Dallas, and you can see sunflowers on this farm nearly throughout the year except for winter. Bloomer's Garden was known as Wild Berry Farm, with the same people running the show. 
Along with the typical sunflowers, they also grow white and red sunflowers along with Zinnias of different varieties. If you are keen on taking amazing photos, sunsets during the middle of June are ideal. Apart from sunflowers, Bloomer's Garden also offers farm animals, various plants, etc. 
Western Belle Farm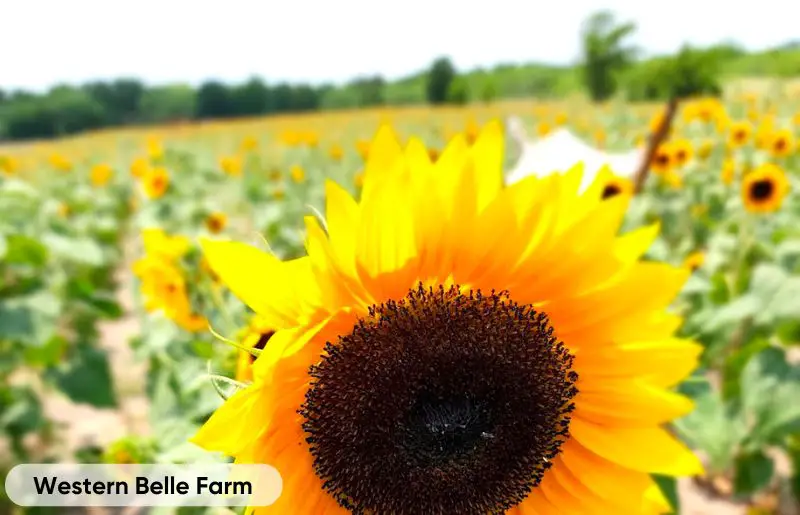 Western Belle Farm allows you to take golden hour photos in their sunflower field. They started their sunflower festival in 2022, in which they had around 15 types of different activities. These activities include horse rides, barn slides, zipline, and many others. 
The farm is located in Waco, Texas, which is about half an hour long-distance from Dallas. A whole family runs this farm, and they have activities for people of all ages apart from the ones mentioned above. 
Western Belle Farm is quite huge and spans around a few acres. They are open for visitation from May until the end of June. So, you can just pack your food and enjoy the beauty of the farm along with all the activities available with them. Booking your tickets is also necessary before visiting the Western Belle Farm. 
Wildseed Farm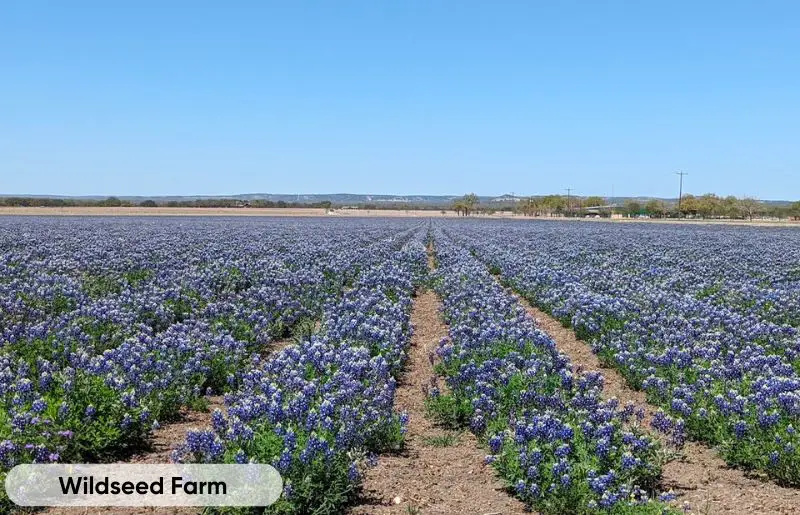 If you stay in San Antonio or Austin and want to visit a sunflower farm, then you are in luck. Wildseed Farm is the largest farm in the United States Of America, around 200 acres. The farm is precisely located around Fredrickberg and consists of activities such as walking trails, wine tasting, etc. 
The walking trials also have a wheelchair facility around half a mile from the start line. While at it, you can also enjoy some of the best peach ice creams at Brewbonnet Biergarten. From March through to October is the ideal time to visit the farm but late summer is the best time of the year. 
If you like sunflower seeds, you can purchase them from them any time of the year as they are always open. They also don't have any entry fee, making it an excellent option for sunflower fields in Texas. 
The Robinson Family Farm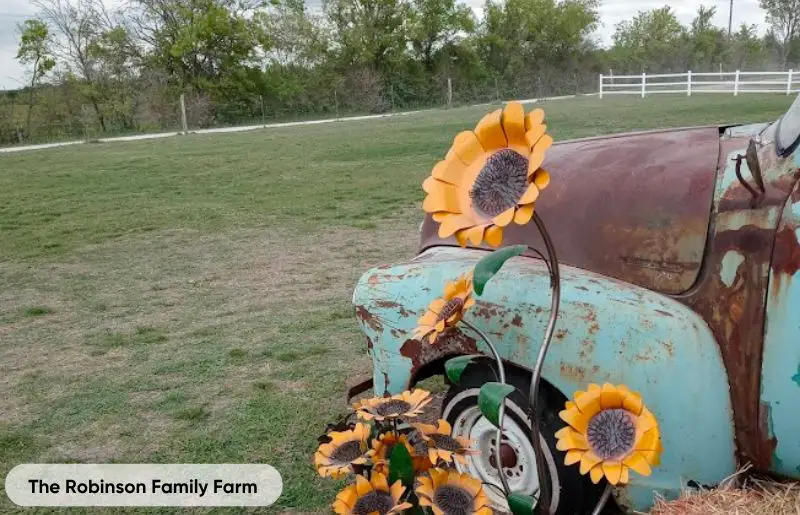 As the name says, The Robinson Family Farm is a farm that the Robinson family solely runs. They open their gates during the weekends and during a few seasons. So, if you are making plans to visit that place, make sure to check before going over. 
The best time to visit the place to pick sunflowers would be mid of October. At this time, you can pick bouquets of sunflowers around five to six feet tall. Unlike most sunflower fields in Texas, they don't have any issues taking pictures in the sunflower fields. 
The Robinson farm has quite a lot of great activities that range from picking pumpkin patches, live music, jumping in a corn pit, and playing many games are some of them. All these activities take place in the open yard. 
Hamilton Farms
This farm is only available for visitation during summer only for a few weeks. This place is located in a town called Shallowater, on Route 84, 10 minutes north of Lubbock. Although the city is small, the farm spans around 28 acres, with sunflowers everywhere. 
The place is open from morning till 9 pm on Thursday to Sunday. Though the site is all sunflower throughout, there is space for other activities for animals, and a concessions stand. You would need to pay an admission fee of $6 per person, but it's free for kids below three. 
Besides sunflower fields, they also have a market, from where you can purchase vegetables, grass-fed beef, and different types of salas'. The hamilton fields are the best place to spend some time in nature. 
Maxwell's Pumpkin Farm
Though the name may suggest otherwise, Maxwell's Pumpkin Farm provides you with one of the best experiences when it comes to sunflower fields in Texas. This field is located 20 minutes from Amarillo in the town of Panhandle. And the best time to visit this place would be September and October. 
This place has many activities such as bouncy castles, miniature trains, a giant corn maze, and strolls through sunflower and pumpkin fields. You can also pick pumpkin patches there and have photo sessions as it is allowed over there. 
The entry fee differs when booked at the gate and online, with the latter being cheaper. Maxwell's pumpkin farm also has many great foods such as Kettle corn, corn dogs, pastries, etc. 
Mainstay Farm Park
Mainstay Farm park is known as the Biggest Backyard in Texas as it has all kinds of outdoor activities apart from Sunflower fields. The best time to visit this place would be from September to October. This is because they have a Pumpkin day festival around that time of the year. 
The place is around half an hour to one hour away from Forth Worth and Downtown Dallas. There are quite a lot of activities that can possibly be listed here. If you are keen on knowing the admission fees of this farm, then visit their website for the details. 
Sweet Eats Fruits Farm
Spanning across an area of 6.5 acres, this is one of the must-visit places in all of Texas regarding sunflower farms. These places hold more than 35 varieties of sunflowers and are around 40 minutes away from Austin downtown. 
This is sunflower heaven for taking pictures as there are spots designated for taking pictures. You don't need special permissions or pay anything extra for that, as the general pass would suffice. The pass costs $23 in front of the gate and $18 if booked online. Kids below the age of three have free admission. 
Froberg's Farm
Froberg's farm is famous for many things besides sunflowers, ranging from a variety of citrus fruits to berries such as blackberries and strawberries. This family-run farm is a half-hour journey to the south of Houston. 
The best time of the year for sunflowers would visit them during October. They do have a lot of activities that you can enjoy. Another great thing about this place is that you can enjoy a lot of different types of pies, jellies, etc. 
Wrap Up
So, these are all the 13 sunflower fields in Texas you can visit. There might be other fields as well, but to us, these are the best places you can enjoy. All of the mentioned fields here are family-friendly and would be great to spend some time away from your busy daily schedule. If you know of any such places that are similar to or better than the ones mentioned here, do let us know about those below.