Going on a Royal Caribbean cruise? One of the best parts is being able to sip tropical cocktails by the pool or enjoy a glass of wine with dinner each evening.
Deciding whether to purchase a drink package can be tricky though – you want to make sure you'll drink enough to make it worthwhile but not so much that you feel ill or can't remember all the fun!
In this updated guide for 2023, I'll walk through everything you need to know about Royal Caribbean's drink packages.
I'll cover the different types of packages, what's included, how much they cost, who can purchase them, and whether they're worth it.
You'll learn tips from my own experience to help decide if a drink package is right for your upcoming cruise. With so many options, you can choose the best way to enjoy drinks and maximize your cruise vacation.
Royal Caribbean Drinks Package Prices in 2023
Royal Caribbean offers several beverage packages to make it easy and affordable for cruisers to indulge in their favorite drinks throughout their sailing.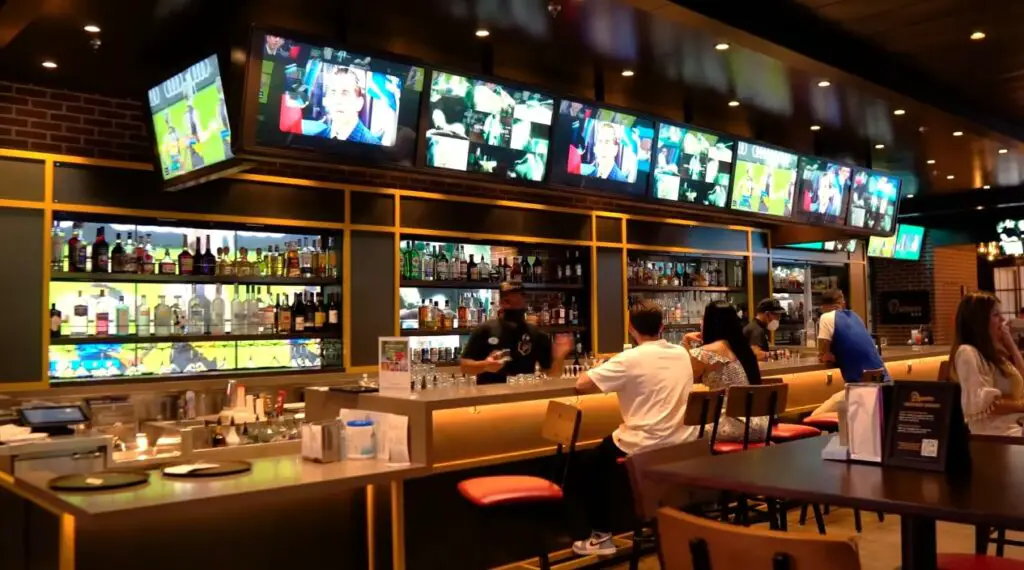 The packages allow for unlimited drinks within the designated brands up to a certain value.
By understanding the drink package prices and options, Royal Caribbean guests can determine the choice that fits their plans and budget for an upcoming cruise.
Classic Package on Royal Caribbean Cruise
The Classic Beverage Package is a entry-range drink option offered by Royal Caribbean. It provides guests with unlimited soda drinks priced up to $7.99 each for a daily rate of $13 to $15 per person.
Price: $13 to $15 a day
What's included:
Coca-Cola® Freestyle beverages beverages
Coca-Cola souvernir cup included
Fountain sodas and refills
Royal Caribbean Refreshment Package
The Refreshment Package is one of Royal Caribbean's more affordable drink options, priced at just $29 to $38 per person, per day. This package includes unlimited non-alcoholic beverages only.
Price: $29 to $38 a day
What's included:
Coca-Cola® Freestyle beverages beverages
Coca-Cola souvernir cup included
Fountain sodas and refills
Premium coffees and teas
Fresh squeezed juices
Bottled still and sparkling water
Non-alcoholic cocktails
Milkshakes at Johnny Rockets
The Refreshment Package is a good option for families cruising with younger children, pregnant women, designated drivers, and any travelers simply looking to avoid alcohol.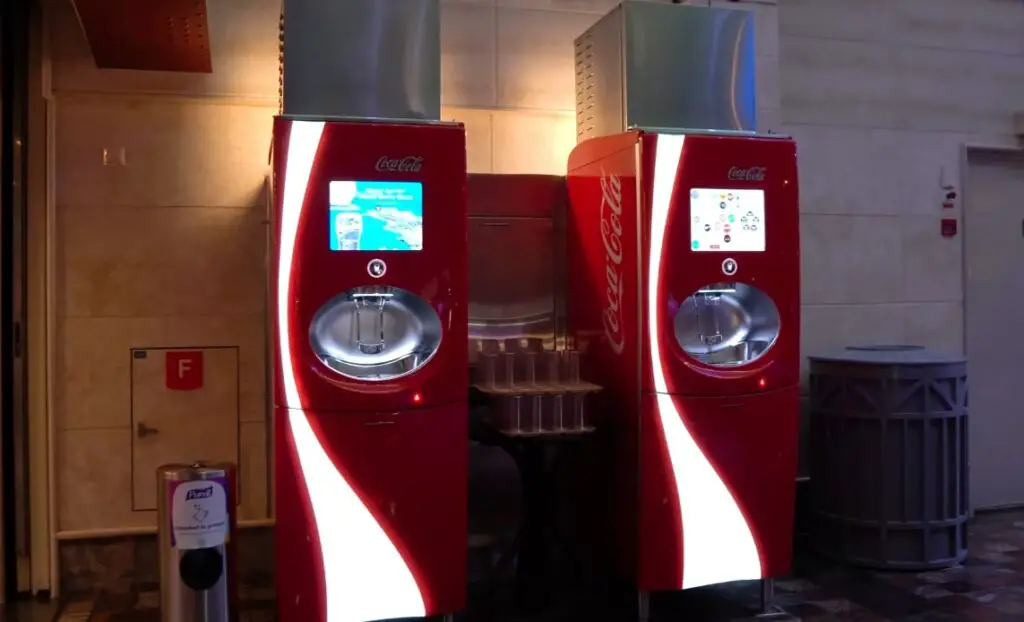 Drinks can be ordered at all bars, restaurants, and cafes across the Royal Caribbean ships and guests can get beverages via room service as well. There are no limits on the number of drinks per day.
Deluxe Package on Royal Caribbean
The Deluxe Beverage Package is Royal Caribbean's premium, all-inclusive drink offering. For a daily rate of $49 to $89 per person, the Deluxe Package provides unlimited drinks that would typically cost up to $12 each.
Price: $49 to $89 a day
What's included:
Coca-Cola® Freestyle beverages beverages
Coca-Cola souvernir cup included
Fountain sodas and refills
Premium coffees and teas
Fresh squeezed juices
Bottled still and sparkling water
Non-alcoholic cocktails
Milkshakes at Johnny Rockets
Cocktails, spirits, liqueurs and beer
Wines by the glass
The Deluxe Beverage Package must be purchased for the entire cruise duration for all members of the stateroom who are 21 and older
Do note that the packages exclude any beverage servers inside the Starbucks store.
Royal Caribbean Drink Prices in 2023
A Royal Caribbean cruise offers passengers ample opportunities to enjoy a variety of beverages while at sea.
The cruise line provides a selection of drink packages as well as a la carte beverage options to fit different budgets and preferences.
Common Drinks:
Tea – Free
Coffee – Free
Hot Chocolate – Free
Milk – Free with breakfast
Lemonade – Free
Water of bottle – $3
Soft drinks – $3 to $4
Wine (A glass) – $9 to $20
Beer – $9
Cocktail – $8 to $13
Cocktails
Sidecar – $14
Goombay Smash – $14
Old Fashioned – $14
Mint Berry Delight – $14
Tom Collins – $14
Lavender Daiquiri – $14
Beers
Bud Light – $7.49
O"Doul's (0.4 proof) – $6.99
Amstel Light – $7.99
Coors Light – $7.49
Heineken – $7.99
Daura Damm (Glutten Free) – $7.99
Strongbow – $7.99
Soft Drinks
Coca Cola and other soft drinks – $3.50
Fresh Juice – $3.50
Tonic – $3.50
Red Bull – $4.00
Wine And Fizz
536 Castle Rock Pinot Noir – $11
Sauvignon Blank – $12
671 Castle Rock Cabernet Sauvignon – $9
Pinot Grigio – $10
Prosecco – $11
Chardonay – $11
223 Chandon Brut – $13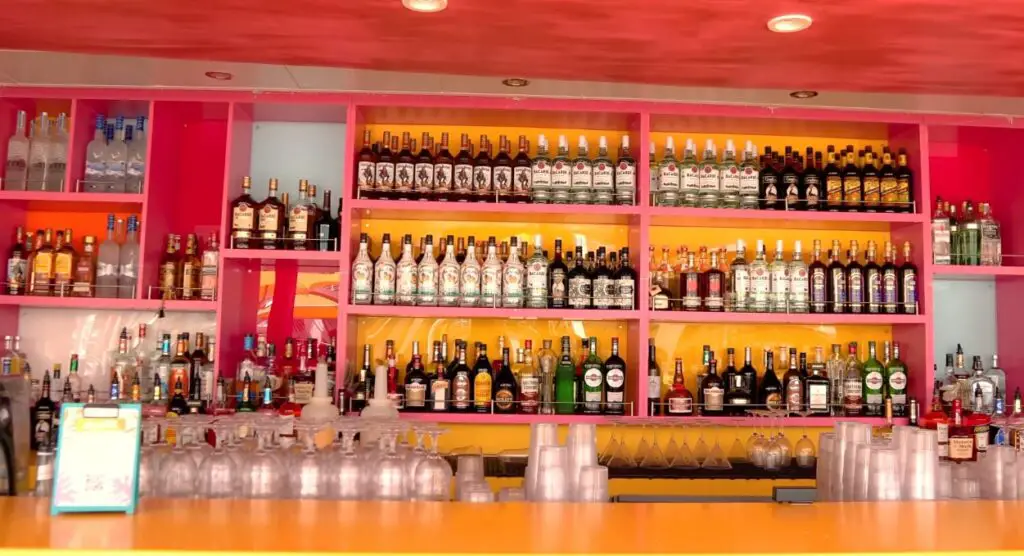 Royal Caribbean Drink Calculator
Use our Royal Caribbean Drink Calculator to find the total price that you would pay.
Just select the required drinks, and the calculator should show you the summary and total price.
Royal Caribbean Drink Calculator
Wine
Cocktails
Beer And Cider
Spirits And Liquor
Soft Drinks
Coffee
Is The Royal Caribbean Drink Package Worth It?
Determining if a Royal Caribbean drink package is worth it depends on a couple of factors, such as:
Drinking habits – If you plan to have several drinks per day, especially cocktails, the packages offer savings over a la carte pricing. Infrequent or light drinkers may not find value.
Types of drinks – Beer and cocktail drinkers get better value than wine drinkers from the packages. Bottles of wine are excluded.
Daily costs – At $39-$89 per person/day, drink packages represent a significant upfront cost. They can be worth it for heavy drinkers, but light drinkers may come out ahead by paying individually.
Duration – Packages must be purchased for the entire cruise. If you're only looking to drink for a few days, an individual plan may be cheaper.
Included brands – Upgraded packages offer savings on premium liquor brands and specialty coffees. The lower-priced plans may not justify the cost if you wouldn't normally order those drinks.
Convenience – Never having to pull out your wallet to order a drink is a major perk offered by the packages.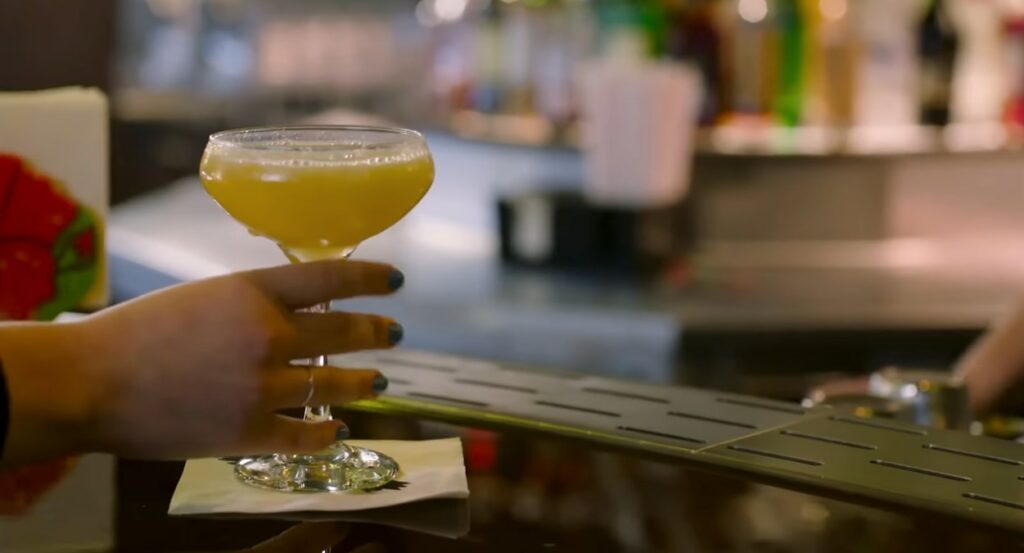 Many people find the drink package too expensive and try to sneak alcohol on board. But do remember that the cruise ship scanners are capable of finding alcohol on luggage.
Is Deluxe Drink Package worth it?
The Deluxe Beverage Package represents the premier, unlimited drinks offering from Royal Caribbean. At a cost of $99 per person, per day, it provides exceptional value for guests who enjoy premium liquor brands and specialty coffees.
The Deluxe Package allows cruisers 21 and older unlimited drinks priced up to $12 each, including cocktails, beer, wine by the glass, bottled water, sodas, juices, and mini-bar items. Top-shelf spirits like Grey Goose vodka, Johnnie Walker Black scotch, and Glenlivet whiskey are featured along with wines up to $12 per glass.
Additional perks include discounts on higher-priced drinks and bottles of wine. With the ability to order as many top-shelf cocktails, beers and coffees as you want each day, the Deluxe Beverage Package is ideal for adults planning to take full advantage of the dining, bars, and entertainment on a Royal Caribbean cruise.
The high daily price tag may seem steep but frequent drinkers find it well worth the unlimited access to high-end brands across the ships.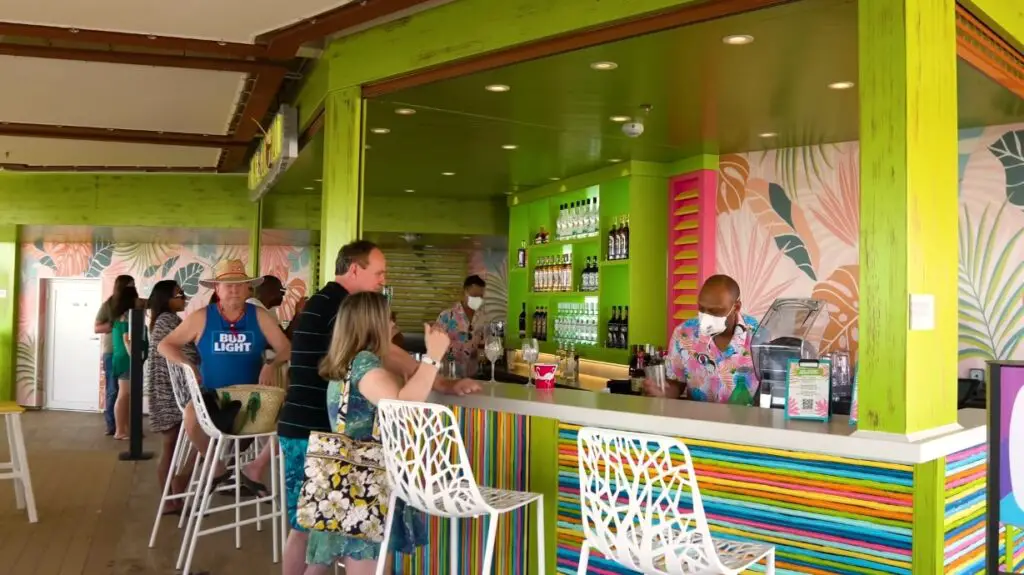 Royal Caribbean Drink Package Promotion 2023
Royal Caribbean recognizes that beverage packages are a major part of the cruise experience, which is why they offer various promotions throughout the year to make them more affordable.
You may get to secure a drink package for a significantly lower price if you book them in advance.
One of the biggest discounts comes around Black Friday, when Royal Caribbean has offered 30% off drink packages for sailings late the following year when booked far in advance.
For 2023 cruises, guests who take advantage of the Black Friday promotion will enjoy major savings on packages like the Refreshment, Classic, and Deluxe plans.
Coffee Package
The Royal Coffee Package provides guests with 15 specialty coffees per day for a cost of $31 per person.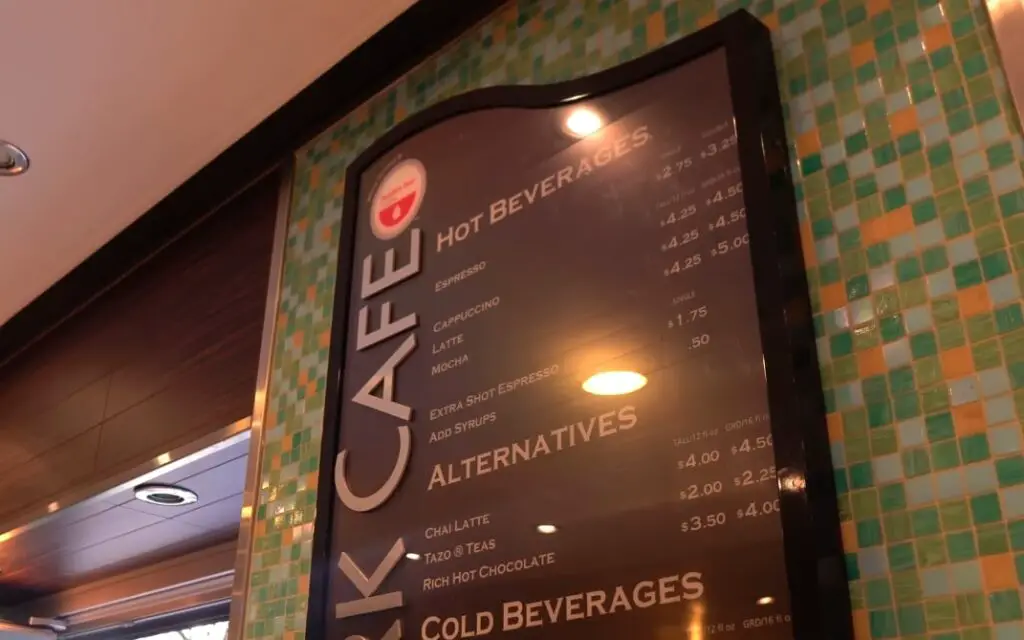 With 15 drinks per day included, the effective price per specialty coffee or tea is reduced to around $2. This represents good savings compared to purchasing the fancy coffee beverages individually, which can cost $3-$5 each on Royal Caribbean ships.
Do remember the Coffee package is not valid in Starbucks on the cruise ship, and Grande and Venti size drinks will cost credits for two coffees.
Water Package
Royal Caribbean sells 16oz cans of water for $29 per 24-pack. That works out to $1.21 per can. Guests can order packs of 6, 12 or 24 cans through room service
If you prefer not to get a water package, the tapwater on the royal Caribbean cruise should be good for you.
If you have already purchased any other drink package already, you can get free water as well.
Questions On The Royal Caribbean Drink Package Answered
How to purchase a Royal Caribbean drink package?
Pre-Cruise Purchase – Drink packages can be purchased in advance when booking a cruise or through Royal Caribbean's Cruise Planner website up until 4 days before sailing. Pre-purchasing gets the best price.
First Day Purchase – To get onboard pricing but also get refunds if you decide to cancel, you can reserve packages on the first day of the cruise without being charged until the next day.
Onboard Purchase – Packages can be bought once you board the ship by visiting the Guest Services desk or beverage package station. However, prices are higher onboard.
Is Royal Caribbean drink package unlimited?
Yes, Royal Caribbean's drink packages provide unlimited beverages within the parameters of each package.
There is no limit to the number of drinks you can order each day with a drink package. You can order as many as you want.
There are no time restrictions on when you can utilize your drink package during your cruise. Drinks are allowed any time.
Can you share drink package?
Unfortunately, guests are not allowed to purchase a package and share it with friends staying in another room. Each booked stateroom is required to purchase their own Deluxe, Classic, or Refreshment package if they wish to take advantage of the all-inclusive drinking on board.
This means if two couples are traveling together but in separate rooms, they must buy two separate packages.
Can I cheat Royal Caribbean drink package?
I cannot recommend trying to cheat or circumvent Royal Caribbean's drink package policies, as doing so would be unethical and could result in serious consequences if caught.
If you are caught cheating the drink package, Royal Caribbean reserves the right to cancel the package.
How can I save money on my Royal Caribbean drink package?
Buying your drink package ahead of time directly through Royal Caribbean will get you the lowest price. Onboard prices are higher.
Look for limited time percentage discounts, 2-for-1 deals, free souvenir cups, and other periodic special offers.
As a Crown & Anchor Society member you can get 25-30% off drink packages when purchasing pre-cruise.
How old do you have to be to drink on a Royal Caribbean cruise?
The legal drinking age on Royal Caribbean cruise ships is 21 years old. All guests must be at least 21 years of age to consume or purchase alcoholic beverages.
Depending on the starting origin of the cruise, the age may vary.
A valid government-issued photo ID (driver's license, passport, etc.) is required to verify age when ordering drinks. Younger guests can purchase and drink non-alcoholic beverages, including through the Refreshment drink package.
Can I cancel the Royal Caribbean drink package?
Yes, it is possible to cancel a Royal Caribbean drink package. You can cancel it online least 48 hours prior to the cruise. If canceled on the first day of the cruise, a full refund will be issued.
There are no refunds for partially unused package days.
Unfortunately, Royal Caribbean does not currently offer an all-inclusive wine package. However, there are a few options for wine drinkers.
The Deluxe beverage package includes unlimited pours of wine by the glass up to $12 retail value. This allows guests to sample a variety of wines included in the package price.
Wine bottles can be pre-ordered through Royal Caribbean's site ahead of the cruise at a discount off retail pricing. This allows saving on favorite wines to enjoy in your stateroom or with meals.
Is Starbucks included in the Deluxe Beverage package?
Starbucks drinks are not included in Royal Caribbean Deluxe drink package. The same goes with all other beverage packages including classic and refreshment.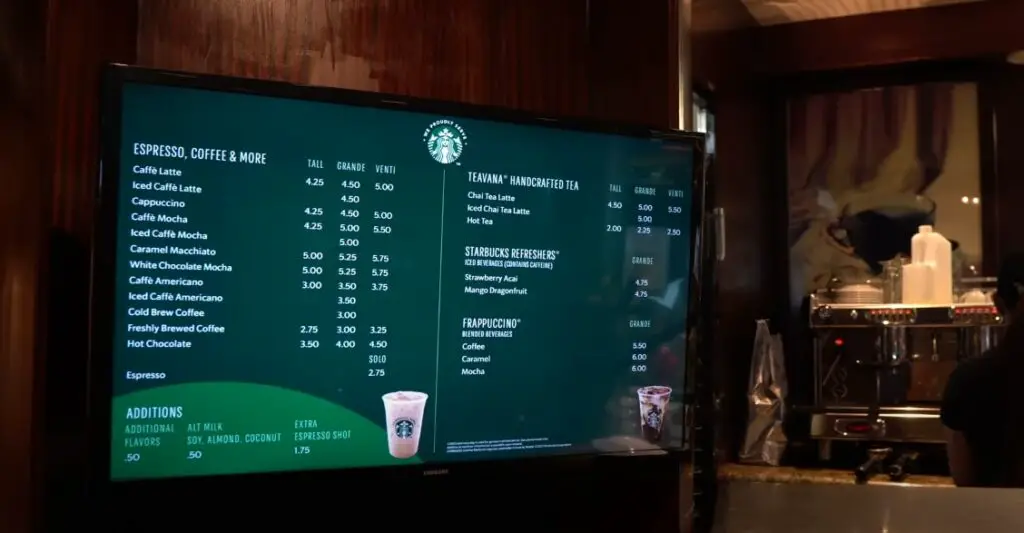 Where can I use the Royal Caribbean drink package?
The Royal Caribbean Deluxe Beverage Package can be used at the following locations on Royal Caribbean ships:
Main dining rooms – You can order non-alcoholic beverages like soda, juice, coffee, tea, etc. at breakfast, lunch, and dinner.
Buffet areas like the Windjammer Café – For coffee, tea, fountain drinks, and juices from the beverage stations.
Bars and lounges – Order mocktails, soda, juice, and other non-alcoholic options.
Pool bars – For mocktails, smoothies, bottled water, etc.
Café promenade – For Seattle's Best coffee, teas, and fountain drinks.
Room service – Beverages like juice, soda, coffee, tea can be ordered.
Mini bars in rooms – Non-alcoholic bottled beverages are included.
Shows and performances – Non-alcoholic drinks can be ordered before shows and during intermission.
The package does NOT include private restaurants like Izumi or Starbucks. Beverages in those venues need to be paid for separately. But otherwise, the Deluxe package covers non-alcoholic drinks from Royal Caribbean's own dining, cafe, and bar locations throughout the ship.
Wrap Up
The bottom line is that a drink package can be worth it if you plan to consume many drinks daily.
For light or moderate drinkers, it may make more economic sense to pay as you go.
When deciding if a package is right for you, consider your drinking habits, length of sailing, included amenities, traveling companions, and personal budget.
Use our tips to get the most value from your package. We hope this guide has shed light on the drink package options available across Royal Caribbean's fleet.
Now you can make an informed decision on which package (if any) is the best match for the type of cruise experience you desire. Wherever your next sailing takes you, we wish you smooth seas and good times ahead! Enjoy cruising with Royal Caribbean!