Are you planning a Royal Caribbean cruise and want to save money on drinks?
You may have heard about purchasing a Royal Caribbean drink package, but are they worth the cost?
And is it possible to get more drinks for your money without breaking the rules?
Picture this: You're lounging on the deck of a Royal Caribbean ship, sipping on a delicious cocktail. But as the bartender hands you the bill, you realize your drink expenses are adding up quickly.
This is where a drink package comes in handy but can be pricey.
So, what can you do to maximize your value without getting caught cheating the system?
While we do not endorse breaking the rules, some tips and tricks can help you get the most out of your drink package.
For example, did you know buying your package early and canceling if a discount becomes available later can save you money?
Or that sharing your drink package with a friend or family member is a popular way to get more drinks for your money?
In this article, we'll explore some ways to cheat Royal Caribbean drink packages and provide you with some helpful tips to make the most out of your purchase. So, grab a drink, and let's dive in!
Ways To Cheat Royal Caribbean Drink Package
Below are a few well-known ways of cheating Royal Caribbean drink packages.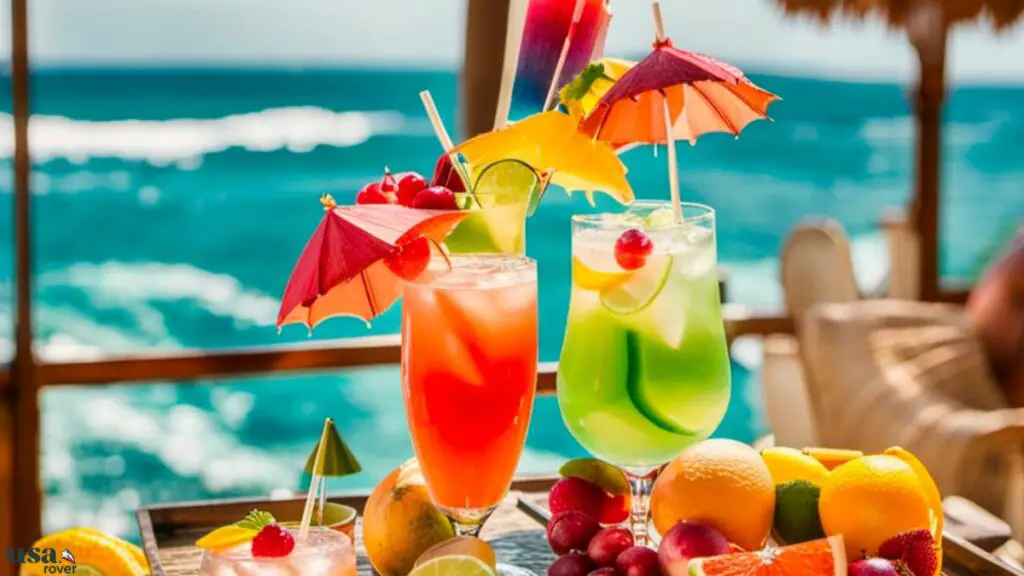 Sharing Royal Caribbean Drinks Package
If you want to save money on your Royal Caribbean cruise, sharing a drinks package with a friend or family member may seem like a good idea.
However, it is essential to note that sharing a drinks package is against Royal Caribbean's policies and could result in consequences if caught.
Royal Caribbean's drink packages are priced per person and offer unlimited drinks during the cruise.
If you and a friend decide to share a package, you may be able to save some money.
For example, if each drinks costs $13 and you purchase a package for $65, anything over five drinks daily is effectively free.
However, if caught, you may be asked to purchase a second package or even cancel the package and get no refund.
As you may already know, if anyone wants to purchase a drinks package in Royal Caribbean, all people in the same cabin above the legal drinking age should also buy the same package.
It can be a problem if only one person drinks.
Even if you only add the drinks package for a single person, the final checkout page will automatically add the same drinks package to both people.
Now here comes the trick.
You need to contact Royal Caribbean directly and tell them that you only need one drink package as the other person has health issues and cannot consume alcohol.
If they are convinced, you can buy only a single drinks package and later share them.
Bring Your Drinks
One of the most popular ways to potentially cheat the Royal Caribbean drink package is by bringing your own alcohol on board.
While guests are not typically allowed to bring their own alcohol on board, this rule has a few exceptions.
For example, you can bring two bottles of wine per stateroom on board on embarkation day. The wine must be in your carry-on luggage, and it must be unopened. You will be charged a corkage fee if you bring the wine to a restaurant.
Another way to bring your own drinks is by sneaking them on board.
This can be done by hiding small bottles of alcohol in your luggage or checked bags. However, it is essential to note that Royal Caribbean reserves the right to inspect all luggage and confiscate any alcohol found.
If you decide to bring your drinks, it is essential to be discreet and not draw attention to yourself. Avoid drinking your own alcohol in public areas and keep it in your cabin or on your balcony.
While bringing your own drinks can be a way to save money, it is important to remember that Royal Caribbean offers a variety of non-alcoholic beverages that are included in the cruise fare.
These include water, tea, coffee, and juice.
Additionally, the drink package includes unlimited non-alcoholic drinks, so the package may not be necessary if you are not a heavy drinker.
Sneak Drinks
If you want to save money on the Royal Caribbean drink package, another way to cheat the system is by sneaking your own drinks on board. While this is technically against the rules, many people have found ways to get around it.
One way to sneak drinks on board is by bringing your own alcohol in a shampoo bottle or other inconspicuous container.
Pack it in your checked luggage, as carry-on bags are subject to search.
Another option is to purchase alcohol at a port of call and bring it back on board with you.
Remember that Royal Caribbean prohibits guests from bringing their own alcohol on board, so you should be discreet when sneaking drinks.
Avoid drinking in public areas or front of crew members, as this could get you in trouble.
If you get caught sneaking drinks on board, you could face consequences such as having your alcohol confiscated or being kicked off the ship.
So, weigh the risks carefully before attempting to sneak drinks on board.
Also, remember that scanners on a cruise can detect alcohol, but you won't be sent to brig just because of sneaking alcohol.
Buy Early and Cancel if a Discount Price is Available Later
One of the best ways to save money on the Royal Caribbean Drink Package is to buy early and cancel if a discount price is available later.
The cruise line often offers promotions and discounts on drink packages, so it's worth watching for these deals.
To take advantage of this strategy, you should purchase the drink package as soon as possible after booking your cruise.
This will ensure you lock in the current price and avoid potential price increases.
Once you have purchased the drink package, keep an eye on the Royal Caribbean website and your email for any promotions or discounts that may become available.
If you see a better deal, you can cancel your existing drink package and re-purchase at the discounted price.
It's important to note that you should only cancel and re-purchase if the discount is significant enough to make it worth the hassle.
You should also be aware of the cancellation policy for the drink package, as there may be fees or restrictions on cancellations.
Enjoy the Non-Alcoholic Drinks
If you're not much of a drinker or looking to take a break from alcohol, you can still make the most of your Royal Caribbean drink package by enjoying the non-alcoholic drinks on offer.
Royal Caribbean offers various non-alcoholic drinks, including sodas, mocktails, and fresh juices. These drinks are included in your drink package, so you can enjoy them as much as you like without worrying about the cost.
If you're a fan of sodas, you'll be pleased to know Royal Caribbean offers a wide range of soft drinks, including Coca-Cola, Sprite, and Fanta. You can also enjoy specialty sodas like ginger ale and root beer.
Royal Caribbean offers a range of mocktails for those who prefer something a little more sophisticated. These non-alcoholic cocktails are made with fresh juices and syrups and are just as delicious as their alcoholic counterparts.
Some popular mocktails include the Virgin Pina Colada and the Shirley Temple.
Royal Caribbean also offers a range of fresh juices if you're looking for something healthy. These juices are made with fresh fruits and vegetables and are a great way to stay hydrated while on board.
You can choose from various juices, including orange, apple, and carrot juice.
Wrap Up
Cheating the Royal Caribbean Drink Package is not recommended. While there are several ways to cheat the system, it is essential to note that these methods are not foolproof and can result in consequences.
You may face fines, being banned from future cruises, or even legal action if caught.
It is important to remember that the Royal Caribbean Drink Package is designed to offer guests the convenience of unlimited drinks at a fixed price.
If you want to save money, consider alternative options such as purchasing drinks individually or bringing your alcohol on board within the limits set by the cruise line.
Remember, cheating the system may seem like a good idea at the moment, but it is not worth the risk. Enjoy your cruise responsibly and within the guidelines set by the cruise line.