Going on a Carnival cruise? Make sure you know the luggage limits and restrictions before you start packing. Having the right information will ensure a smooth embarkation process.
In this detailed guide, I'll cover everything you need to know about Carnival cruise luggage, including:
Number of bags allowed
Size and weight restrictions
Fees for extra or oversized bags
Carnival's luggage tagging system
Items that are prohibited or restricted
Liquids policy ("3-1-1 rule")
Alcohol and beverage allowances
Tips for cruise luggage porters
I'll also answer frequently asked questions about bringing snacks, drinks, alcohol, and other items on a Carnival cruise.
How Many Bags Can You Take On A Carnival Cruise?
There is no set limit on the number of bags you can bring on a Carnival cruise. However, Carnival does provide the following luggage suggestions:
For cruises of 3-5 nights:
Carnival suggests packing 1 bag per person for shorter cruises of 3-5 nights. This helps keep the luggage light and manageable.
You can bring 1 carry-on plus 1 standard checked bag per person for smooth sailing on these quick getaway cruises.
For cruises of 6+ nights:
For longer cruises of 6+ nights, Carnival recommends no more than 2 bags per person.
This allows 1 carry-on plus up to 2 checked suitcases per passenger to accommodate your needs for a longer sailing.
While there is no set luggage limit per passenger, following Carnival's bag suggestions will make embarkation and transportation easier.
The fewer bags you bring, the faster check-in and boarding will be.
What Is the Luggage Size Limit on Carnival Cruises?
For your suitcases and bags, Carnival has the following size restrictions: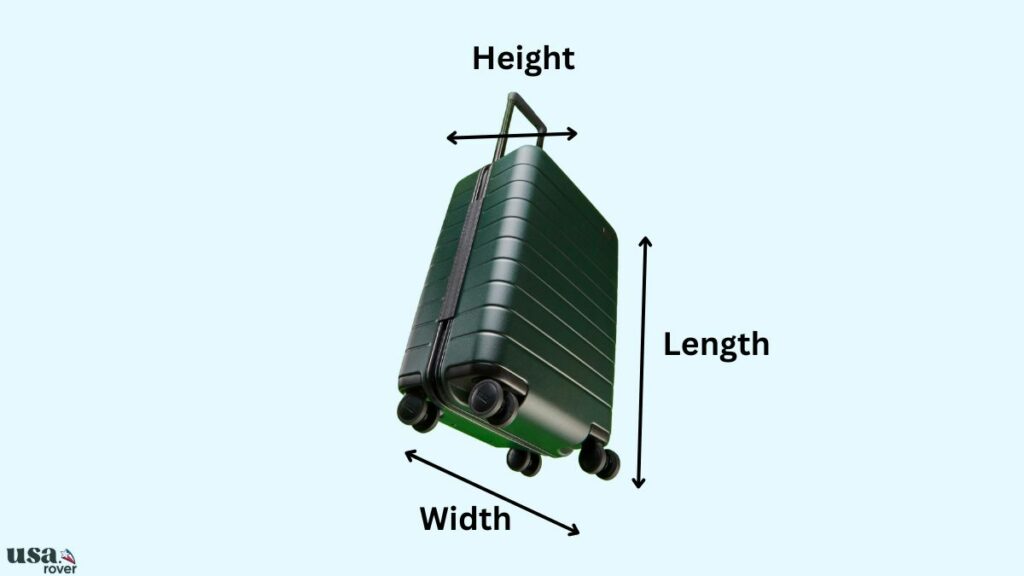 Max dimensions: 140cm x 60cm x 40cm – This is the maximum size allowed for standard checked bags. Measure carefully.
Max weight: 50 lbs per bag – This is the weight limit per checked bag. Even though there is no overweight fee, it would be better to pack up to only 50 lbs, as it makes it easier for porters to carry the luggage safely.
Tip: Use Carnival's printable luggage sizers during packing to avoid oversize surprises
Is there a weight limit for luggage on a Carnival cruise?
Carnival suggests each checked bag weigh 50 lbs (22 kg) or less for easier handling. However, there are no overweight luggage fees if your bags exceed this recommendation.
You can bring heavier luggage without incurring overage charges. Carnival does not restrict bag weight or charge fees for heavy bags.
Keep in mind airline limits may be more restrictive for your incoming flight. Make sure your bags meet airline size and weight rules first.
Also, consider dividing extremely heavy bags into lighter pieces out of courtesy to baggage handlers. But you won't incur fees for heavier bags from Carnival.
The main thing is Carnival provides a 50 lb recommendation per bag, but does not enforce weight limits or charge for heavy luggage.
Tip: Use a luggage scale when packing to keep the weight of each bag under 50 lbs.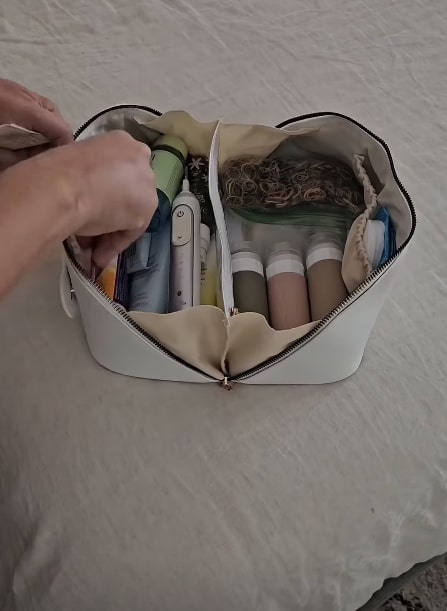 Are There Baggage Fees On Carnival Cruises?
No, Carnival cruises have no checked baggage fees for bags that meet the airline size and weight limits for your flight.
Carnival does not charge for standard checked luggage within airline limits, including:
No fee for your 1st checked bag
No fee for your 2nd checked bag
No fees for additional bags
You can check as many airline-approved bags as needed with Carnival without incurring per-bag fees.
The only baggage costs would be any airline fees associated with your incoming flight if you exceed airline limits. But once at the cruise terminal, you can check bags with Carnival fee-free.
This makes packing for your Carnival cruise easy and budget-friendly. Bring what you need luggage-wise without extra fees.
What Is Carnival Luggage Tag?
Carnival provides each passenger with personalized luggage tags on embarkation day. These bar-coded tags make identifying and delivering your checked bags easy.
The tags will have your name, booking number, stateroom number, and sail date printed on them.
Attach 1 tag securely to each piece of checked luggage you want to be delivered directly to your stateroom on the ship. Don't fold or bend the tags.
This streamlined system allows Carnival staff to efficiently sort and deliver thousands of passenger bags. Once onboard, your properly tagged bags will magically appear in your room.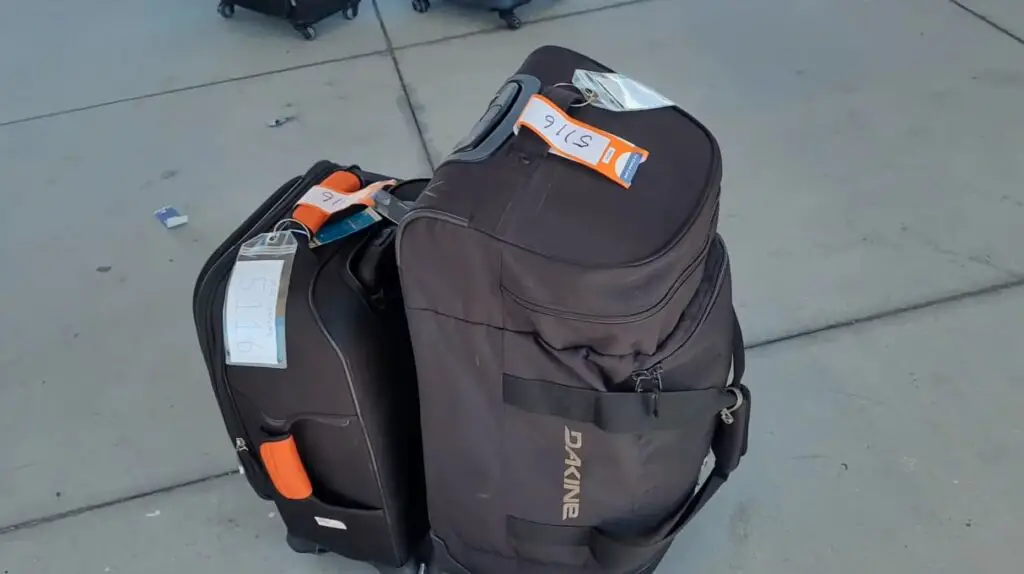 Tip: Also, put your name and contact info inside each checked bag in case tags happen to fall off.
How Much To Tip Cruise Luggage Porters
When you arrive at the cruise terminal, luggage porters will take your checked bags to be loaded on the ship.
It's standard practice to tip porters around $2 per bag handled in thanks for their assistance. For a family with the typical 2 bags each, tipping $8-10 total is suggested.
Porter tips are not included in your cruise fare. Cash tips are always appreciated if you have small bills handy. You can also tip porters using your Sail & Sign onboard account card.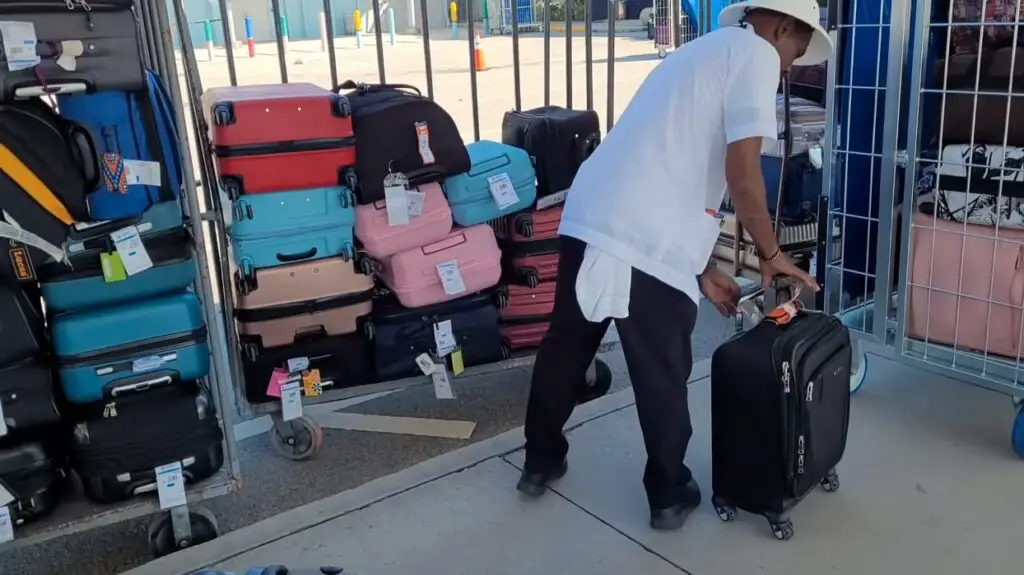 Tip: Pack $20-$40 in small cash bills for tipping luggage porters, housekeeping, servers, and other cruise staff.
What You Can Bring On A Carnival Cruise

When packing for your Carnival cruise, refer to their "What to Pack" and "What Not to Pack" lists online for guidance.
Some common questions about permitted items:
Can you bring snacks on a Carnival cruise?
Yes, you can bring small quantities of snacks like crackers, chips, pretzels, protein bars, and cookies. Homemade baked goods and candy are allowed, too, within reasonable limit. Do not bring fresh fruits, vegetables, or uncooked meats onboard.
Tip: Pack non-perishable snacks in resealable bags or plastic containers.
Can you bring drinks on a Carnival cruise?
Non-alcoholic canned and bottled drinks like sodas, sparkling water, juice boxes, and bottled water are permitted. Bring a refillable water bottle to stay hydrated.
Tip: Fill a small soft cooler with allowed drinks for your stateroom.
Can you bring alcohol on a Carnival cruise?
Only at embarkation – Guests 21+ can bring 1 standard 750ml bottle of unopened wine or champagne in their carry-on when boarding. No beer, liquor, mini bottles, or additional wine can be brought onboard.
Tip: Purchase your drinks in ports or onboard shops/bars during your cruise.
Can you bring wine on a Carnival cruise?
Adults of legal drinking age (21+) can bring 1 factory-sealed 750 ml bottle of still wine or champagne in their carry-on bag at embarkation only. No sparkling wines, beers, liquor, or mini bottles are permitted.
The cruise ship scanner will detect alcohol if people try to sneak it onboard.
Tip: Wrap your bottle well to prevent breakage in transit.
Can you bring soda on a Carnival cruise?
Unopened canned or plastic bottled sodas and soft drinks can be brought onboard in carry-on bags. No glass containers are allowed.
Can you bring Red Bull on a Carnival cruise?
Red Bull and other energy drinks are allowed on Carnival cruises, but some guidelines exist around bringing them on board. Passengers can bring a reasonable, personal-use amount of Red Bull or other canned/bottled energy drinks in carry-on luggage.
Typically, up to 12 standard cans or 1-2 of the larger 24oz cans/bottles per person is considered a personal-use quantity.
Can you bring water on a Carnival cruise?
Bringing water on a Carnival cruise is allowed and encouraged. Passengers can pack factory-sealed bottled water, water filters, and reusable water bottles in carry-on luggage to stay hydrated.
Typically, up to 12 standard-size bottles per person are permitted. Water is screened at embarkation but allowed with no issues as long as it follows the carry-on guidelines. Having your water avoids having to purchase expensive bottled water onboard.
Can you bring a cooler on a Carnival cruise?
Personal coolers can be brought onto Carnival cruise ships, though there are guidelines to follow. The coolers must be soft-sided and no larger than 12 inches by 12 inches, fitting inside carry-on luggage.
Allowed contents include canned drinks, small snacks, toiletries, medication, and ice packs. However, alcohol and glass are prohibited inside coolers.
The coolers are screened at embarkation and can only be used inside passenger staterooms, not in public spaces. Following these rules allows guests the convenience of having extra beverages and snacks handy in their rooms.
Can you bring a vape on a Carnival cruise?
Carnival allows passengers to bring electronic cigarettes and vaping devices in carry-on luggage, though there are guidelines around their usage.
Vapes, e-cigarettes, and a reasonable personal supply of nicotine cartridges can be packed and brought on board.
However, these devices and liquids will be screened at the security checkpoint before boarding the ship.
Vaping is only permitted in designated outdoor areas of the ship, like certain open decks and casinos. It is prohibited in all indoor areas, including staterooms, due to smoke detection systems.
However, some cruise lines allow smoking on balconies.
Can you bring a fan on a Carnival cruise?
Small personal fans can be brought on Carnival cruises to make staterooms more comfortable, following specific guidelines. The fans must be compact and battery-powered, no larger than a desk fan, with covered blades for safety.
Fans can only be packed in carry-on luggage to be screened at embarkation security. They are meant for use only inside passenger staterooms, not in public areas. Battery-operated units are ideal since outlet access is limited on ships.
Can you bring an iron on a Carnival cruise?
Carnival does not allow passengers to bring their irons or ironing boards on cruises due to potential fire hazards and limited counter space in staterooms. The ship has ironing rooms that guests can utilize during their cruise.
Ironing rooms are located on various decks and complimentary for passengers. They provide irons, mini ironing boards, and steamers.
To avoid wait times, guests should visit ironing rooms earlier in the day as they get busier closer to dinner time when cruisers are getting dressed up.
Can you bring a steamer on a Carnival cruise?
Unfortunately, Carnival cruise lines do not permit passengers to bring any fabric or clothes steamers in their luggage or onboard their ships. This prohibition includes both handheld and upright garment steamers.
Carnival has restrictions on certain personal appliances with high wattage or heat output being brought onboard their cruises. Steamer units tend to draw a lot of electrical currents and have the potential to overload circuits. The steam they emit also poses a safety hazard in tight quarters.
Can you bring a pocket knife on a Carnival cruise?
Carnival Cruise Lines prohibits all guests from bringing knives onboard, including pocket knives. This ban on knives and sharp objects extends to even small folding knives and multi-tools. The only exceptions are safety razors and small eyebrow grooming scissors kept in your stateroom.
Can you bring a drone on a Carnival cruise?
Unfortunately, passengers are prohibited from bringing drones on Carnival cruises, also known as unmanned aerial vehicles (UAVs).
This ban covers all passenger-owned drones regardless of size or features. It applies to both staterooms and any outdoor areas of the ship.
Prohibited Items on Carnival Cruise
Dangerous, illegal, or universally banned items are strictly prohibited on all Carnival cruises.
This includes firearms, weapons, recreational drugs, flammable items, alcohol over the limits, and more. Refer to Carnival's "Not Allowed to Bring" list when packing.
Prohibited items found during security screening will be confiscated and not returned. This can also lead to denied boarding or disembarkation. Don't risk it.
Tip: When in doubt if an item is allowed, contact Carnival ahead of time to avoid problems.
Does The "3-1-1" Liquids Rule Apply To Cruises?
The 3-1-1 liquids rule limits passengers to 3.4 ounce containers of liquids, gels, aerosols, creams and pastes when going through airport security. All of these items must fit in one quart-sized plastic bag with 1 bag per passenger.
However, this rule was instituted by the Transportation Security Administration specifically for commercial air travel. It does not apply to cruise passengers boarding ships. Liquids rules at cruise terminals are much more relaxed.
But do keep in mind that the rule applies if you fly to the port.
Does Carnival Cruise search your baggage?
All checked bags go through security screening when loaded onto the cruise ship. This is done through X-ray scans and sometimes manual searches. This is the standard protocol for cruise lines to check for prohibited items.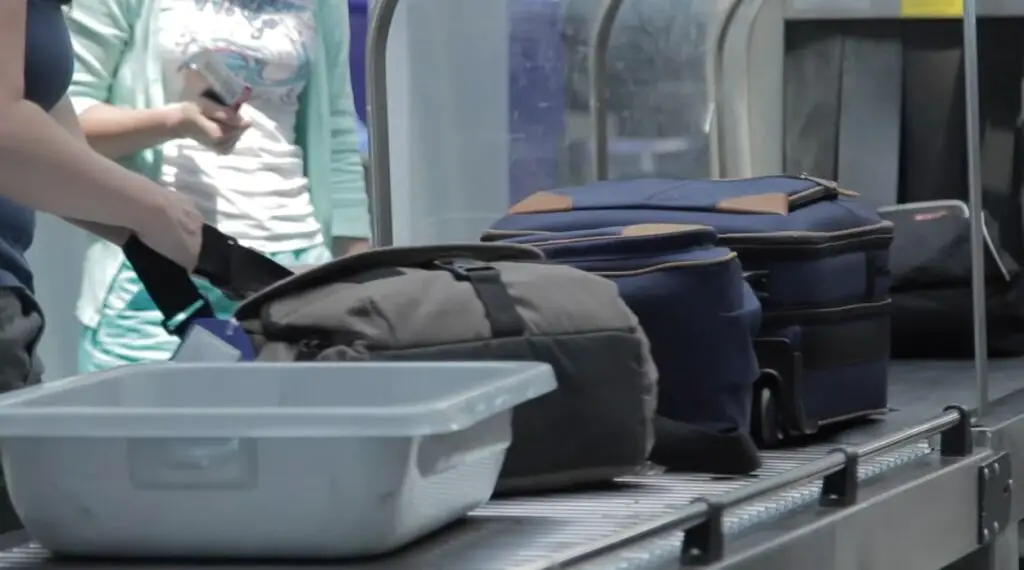 Carnival does reserve the right to conduct random inspections of any checked or carry-on bags at their discretion. These searches may be done by hand or using automated baggage scanners.
Carry-on bags are also subject to screening and inspection at any point during embarkation or debarkation. This is often done via X-ray scanners when passing through security checkpoints.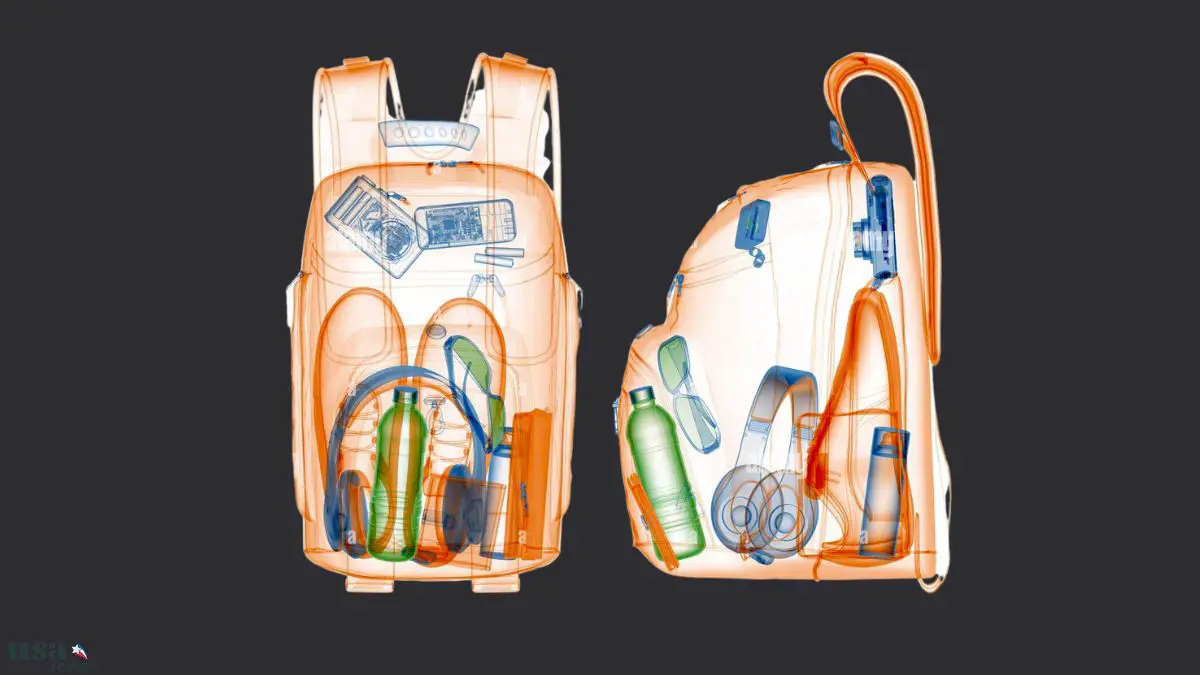 It's recommended to avoid trying to conceal any banned or questionable items in bags. To avoid problems or delays, passengers should familiarize themselves with Carnival's list of prohibited items and the baggage policy before sailing.
What to put in your carry-on bag?
Medications – Any prescription medications you need, over-the-counter meds, supplements, etc. Pack more than enough to last your trip in case of delays.
Valuables – Passport, wallet, keys, phone, laptop, camera, jewelry, etc. Keep anything you would hate to lose in your carry-on.
Chargers & batteries – For electronics, include backup/portable phone chargers.
Change of clothes – At least one full change of clothes and underwear in case your checked bag gets delayed.
Toiletries – Travel sizes of essentials like toothbrush, toothpaste, deodorant, face wash. Liquids must follow TSA rules.
Snacks – Pack some snacks that travel well and won't spill, like protein bars, dried fruit, nuts.
Travel documents – Printed tickets, boarding passes, itinerary, visa/passport if needed during transit.
Entertainment – Books, e-reader, travel headphones, portable chargers for devices.
Other essentials – Eyeglasses/contacts, chapstick, hand sanitizer, disinfecting wipes, face mask, pen.
The key is to pack light but include anything you need or couldn't easily replace in your carry-on. Keep it organized and accessible.
Check airline rules on liquids and prohibited items. With the basics covered in your carry-on, you're prepared for any situation! Let me know if you need any other tips.
FAQ
What is the best way to get luggage tags for my Carnival cruise?
Carnival provides each guest with personalized barcode luggage tags delivered directly to their stateroom on embarkation day. Attach tags to your checked bags before dropping them off.
How early should I arrive at the cruise terminal before departure?
Arrive at the cruise terminal at least 3-4 hours before the scheduled boarding time to accommodate check-in, security, and boarding. This avoids stress and long lines.
Should I tip the porters who take my checked bags at the terminal?
Yes, tip porters are $2 per standard bag they handle for you at the terminal for good service. Cash is the most straightforward, but you can add tips to your Sail & Sign account, too.
What size checked bags are allowed on Carnival cruises?
The maximum size limit is 30 x 24 x 15 inches (length x width x height).
Can I store luggage with Carnival if my flight arrives before cruise embarkation?
Yes, Carnival offers secured luggage storage at the terminal so you can drop off bags early and go explore the port city stress-free before your cruise.
Wrap Up
We hope this detailed guide provides everything you need to know for smooth sailings with your Carnival cruise luggage.
Let us know if you have any other questions!
Bon voyage, and get ready for an amazing cruise vacation!