With crystal clear water, water activities, and pebble sands, Austin beaches are here for you to immerse yourself in nature.
Austin is home to many beaches and lakeside retreats to spend a whole day of your Austin Texas trip itinerary.
Below are some lesser-known and uncrowded beaches in Austin to visit right now.
So buckle up, and let's look at some hidden beaches in Austin that you have never heard of before.
13 Beaches in Austin
Hamilton Pool Preserve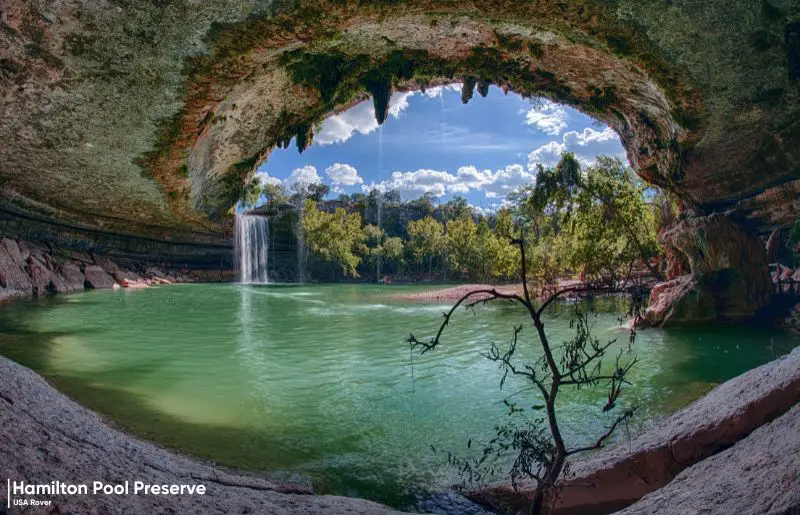 If water and rock are your things, you should visit Hamilton Pool Preserve. Hamilton Pool Preserve is essentially a waterfall that splashes directly into a U-shaped rock covering. There are plenty of activities like picnic tables, guided tours, hiking, and more.
Hamilton Pool Preserve might not always be available for swimming due to bacteria. But the good news is that there are tons of other activities that you can engage in.
Most people hike in Hamilton Pool, so ensure you have perfect and sturdy shoes as the trial is a bit narrow. It will take approximately 30 minutes to start from the start point to the end and back.
You can enjoy an incredible view of the water, rocks, greeneries, and blue sky in a single frame.
If you plan to visit Hamilton Pool Preserve, reserve an available slot from 9:00 AM – 12:00 PM and 2:00 PM to 5:30 PM. 
Address:
24300 Hamilton Pool Rd,
Dripping Springs, TX 78620
Barton Springs Pool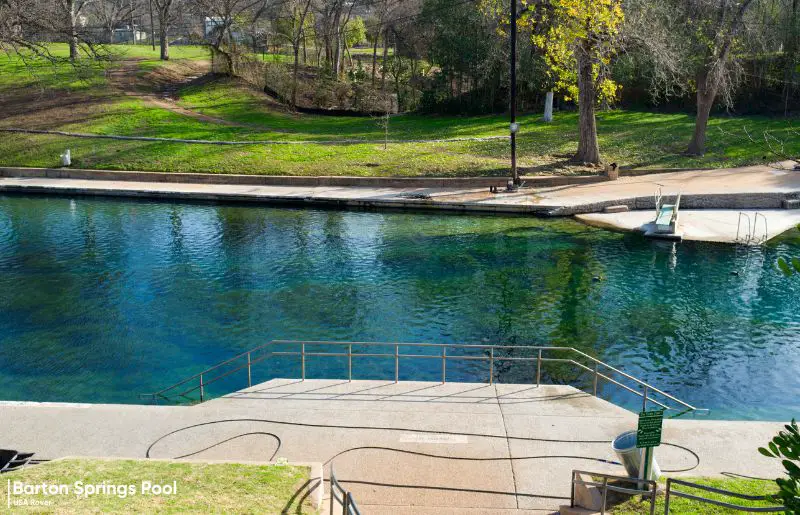 With depths ranging from 0  to 18 feet, Barton Springs Pool is an excellent place for people to swim. The average temperature of the spring is about 70 degrees. The area is enjoyed by more than 800,000 people every year.
Either side of the spring is large evergreens that keep the place greeny and vibrant, giving a different vibe.
Don't forget to pay a visit to the Splash, an exhibit for you to learn everything about the Barton Springs and Edwards Aquifer.
Adults can get in for $9, $5 for kids between 12 and 17, and $4 for 11 and below. The pool is open all days a week.
Address:
2131 William Barton Dr.
Austin, TX 78746
Sandy Creek Park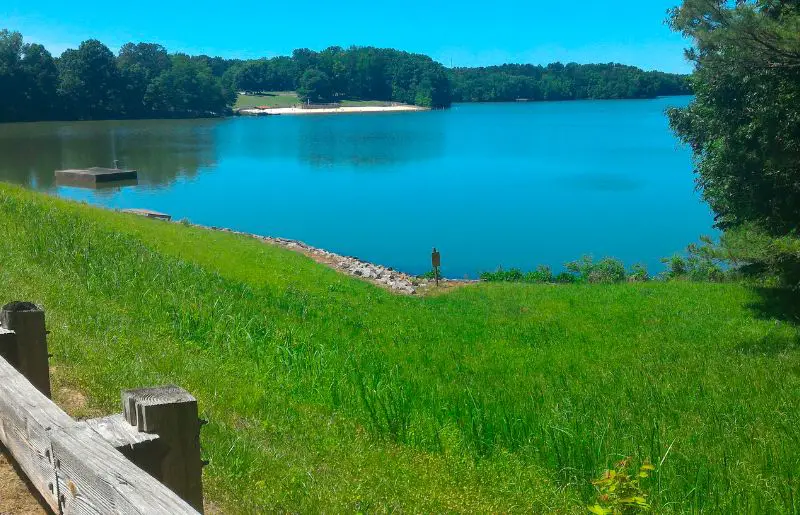 On the basin area of Lake Travis is the 92-acre Sandy Creek Park, just 30 minutes from downtime Austin.
Sandy Creek Park got you covered if you want to float on the beach, catch up with your loved ones, or just melt into nature.
Boating, swimming, and hiking are the main activities here.
You can choose one of 20 campsites you can reserve for just $15 a night. If you plan to camp on the site, make sure to reach here fast as overnight camping is available on a first-come, first-serve basis.
Swimmers at Sandy Creek Park, watch out for Zebra Mussels!
A day pass for a person costs $5, and kids below 12 get in for free.
Address:
9500 Lime Creek Road Leander,
TX 78641
Pedernales Falls State Park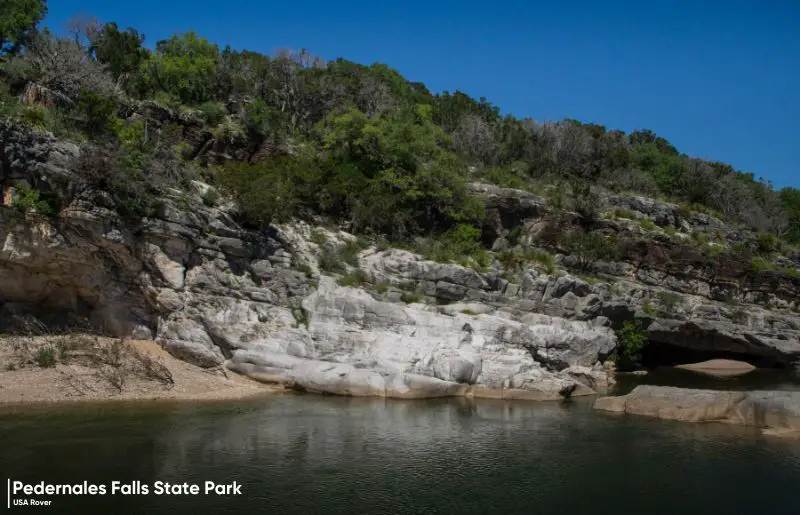 Established in 1971, Pedernales Falls State Park is 25 miles west of Austin, TX. The park spans a humungous 5211.7 acres and offers many activities, including swimming, bird watching, fishing, and tubing. And, of course, the falls themselves are simply beautiful.
If you are someone like me who loves to hike, then this place has got mountain biking trails (19.8 miles), equestrian trails (10 miles), and backpacking trails (14 miles) as well. The Twin Falls Nature Trail is an easy half-hour hike that takes you through woodlands and waterfalls.
By the way, you also have the option to rent out a kayak to go kayaking around the unique state park.
The entry fee costs $6 per person and free entry for kids under 12.
Address:
2585 Park Rd 6026,
Johnson City, TX 78636
Milton Reimers Ranch Park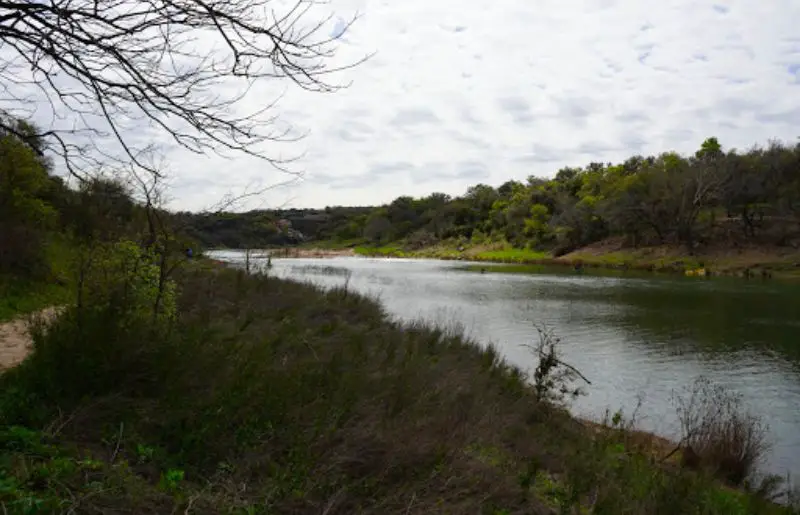 If you are after an unspoiled water area to enjoy Austin, 3 miles along the Pedernales River is the Milton Reimers Ranch Park. The 3-mile stretch includes shallow and deep sections for you to go wild on water.
You can enjoy a spectacular panoramic view of the Texas Hill Country, river frontage, and deep canyons.
And, by the way, Milton Reimers Ranch Park is the largest parkland acquisition in Travis County history.
Make sure to keep $5 cash per person to grab an entry ticket (free entry for 12 and below).
Address:
23610 Hamilton Pool Rd,
Dripping Springs, TX 78620
Russell Park Beach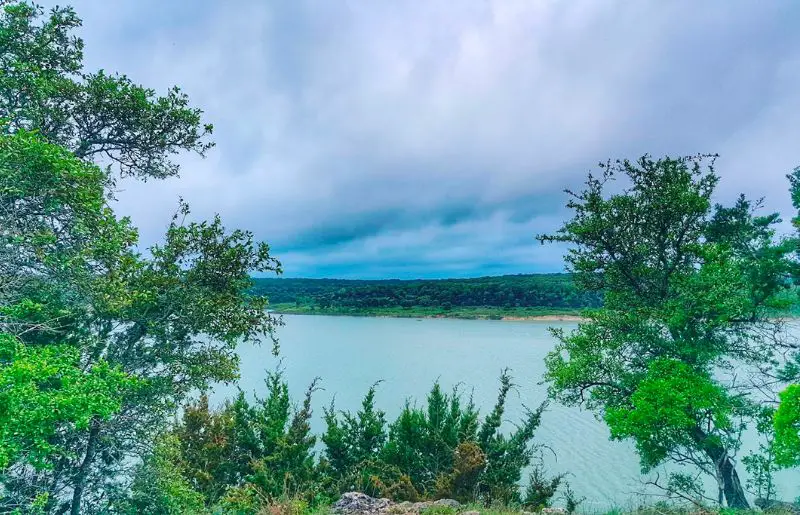 Approximately an hour from downtown Austin, Russel Park Beach is the go-to destination for many recreational enthusiasts that's open 365 days a year. It's a stunning spot for swimming, sunbathing, and picnicking.
If you want to spend quality time with your loved ones without too much noise, then make sure to plan your trip on the weekdays as weekends are always busy.
The water here is super clean and might impel you to jump straight into it. You can even see the pebbles under the water right away.
The park is dog-friendly but make sure it is on a leash.
Basic amenities like public showers and restrooms are available and are free to use.
The entry cost is $5 per vehicle a day.
Address:
2101 Co Rd 262,
Georgetown, TX 78633
McKinney Falls State Park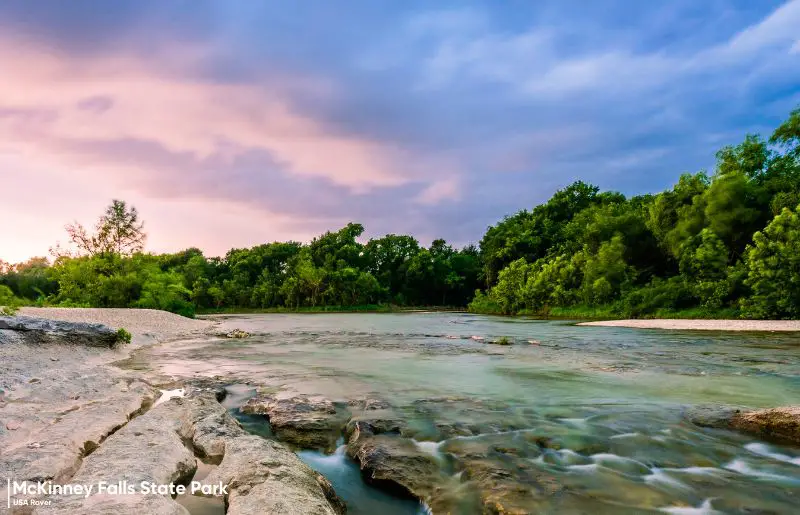 At the confluence of Onion Creek and Williamson Creek, 15 minutes away from the city center, is the McKinney Falls State Park.
Don't forget to visit one of the oldest towering bald cypress trees, which is whopping 500 years old, Old Baldy.
Wander around the foundations of an early Texas home which is also home to a plethora of birds, deers, and other life. If you plan to stay overnight, you can choose from one of 81 campsites.
If you are into hiking or biking, don't miss the 2.8-mile Onion Creek Hike and Bike Trail!
The state park is open 8 AM to 10 PM all day a year.
Entrance fees are $6 per person a day and free entry for kids under 12.
Address:
5808 McKinney Falls Parkway
Austin, TX 78744
Hippie Hollow Park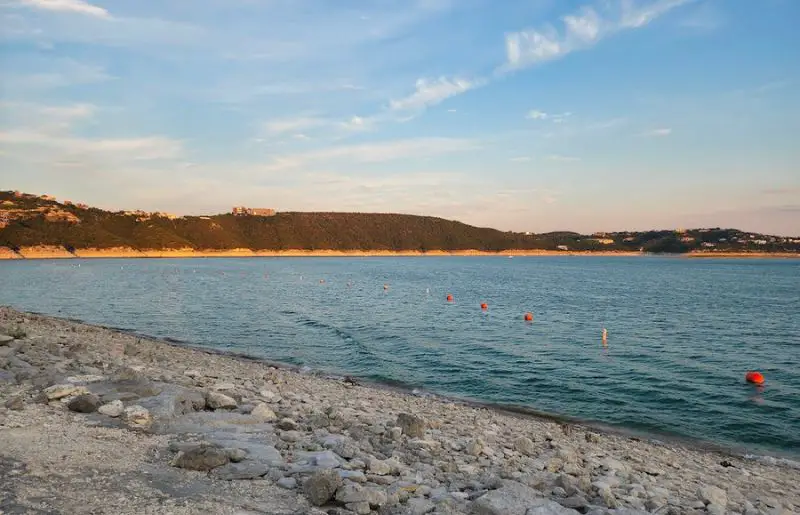 Austin's only legally recognized clothing-optional public park, Hippie Hollow, features a rock shoreline facing Lake Travis and can be an excellent spot for you if you don't plan to bring children along.
Since it is a clothing-optional place, the park has restricted access to people below 18. The contrasting vibrant colors of the water, lush vegetation, and the sky immerse you entirely, making you forget everything else.
The place is about a 30-minute drive from downtown Austin and is one of the beaches near Austin.
And no, your furry friend is prohibited in this place, not even inside your vehicle.
Also, remember that people might not be that comfortable being photographed.
Address:
7000 Comanche Trail
Austin, TX 78732
Bob Wentz Park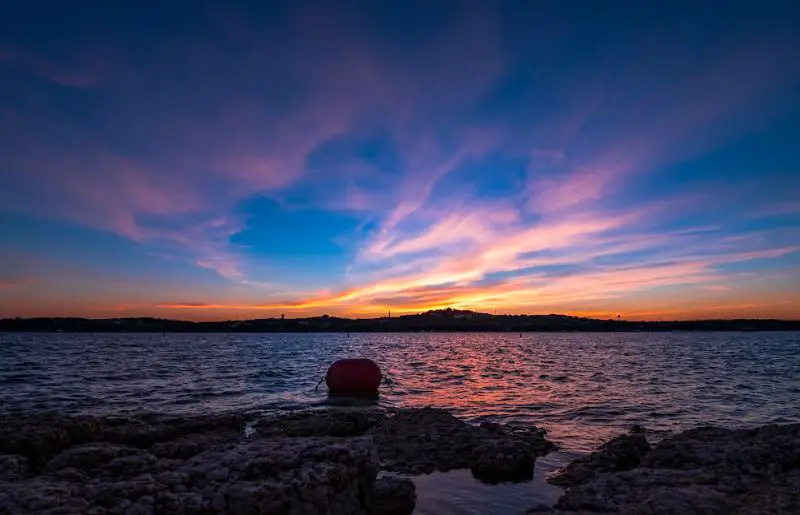 Bob Wentz Park is an absolutely breath-taking scuba diving destination in Autin, TX. If water sports are your thing, definitely add Bob Wants Park to your Texas checklist now!
Relaxing on the shores of Lake Travis, swimming, and engaging in various water sports activities, including scuba diving, are the popular activities in the park spread over 211 acres.
Do keep in mind pets are allowed in Bob Wentz Park.
The pavilion in Bob Wentz Park opens a stunning view of Lake Travis to immerse yourself in nature. Amenities in Bob Wentz Park include a super cool pavilion, picnic tables and chairs, barbeque grills, and more.
As for the day pass, it costs $5 per person, and kids under 12 get in for free.
Address:
7144 Comanche Trail
Austin, TX 78732
Lake Pflugerville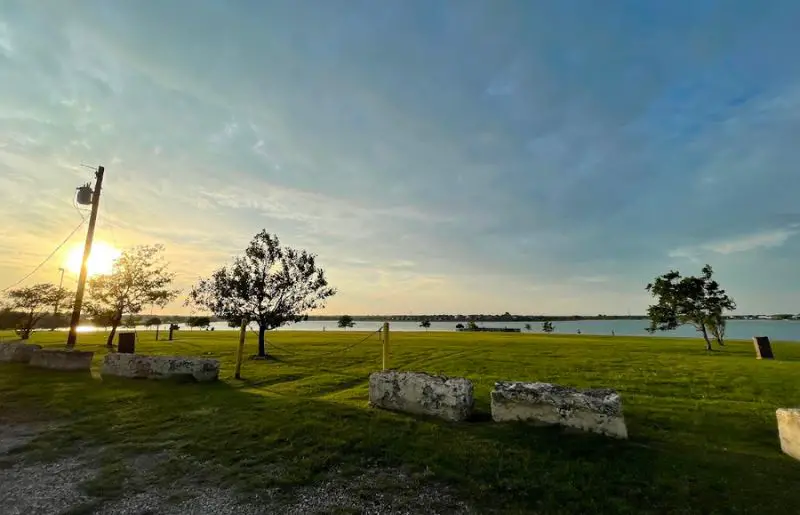 Lake Pflugerville is home to various outdoor activities, including hiking trails, boat launches, kayaking, and more. Initially, a source of water for the nearby residents, Lake Pflugerville turned out to be a great beach destination in Austin, Texas.
Purple Martin bird houses, which lie to either side of the lake, are a great bird spotting area where you'll find various migrating birds starting from February every year.
The beach here is actually a pebble beach and not sandy, so make sure to bring some footwear along if you plan to swim.
Watercraft rentals, including kayak, canoe, stand-up paddle boards, and tandem, are available in the place.
Age alike, anyone can access the place for free as there is no entry fee.
Address:
18216 Weiss Lane
Pflugerville, TX 78660
Mansfield Dam Park
Yet another incredible beach to visit in Austin is the Mansfield Dam Park spread across 71 acres. The place invites you to a scenic view of Lake Travis and various outdoor activities like scuba diving, fishing, swimming, and more.
The beach is located adjacent to the main body of Lake Travis. The hike and bike trail let you experience an impeccable view of Lake Travis, surrounded by trees and vines.
Some notable amenities in Mansfield Dam Park are boat ramp, fishing, an underwater dive park, and paved multi-use trails.
It's $5 for a person to get in, and as always, kids under 12 get free entry.
Address:
4370 Mansfield Dam Park Road
Austin, TX 78732
Emma Long Metropolitan Park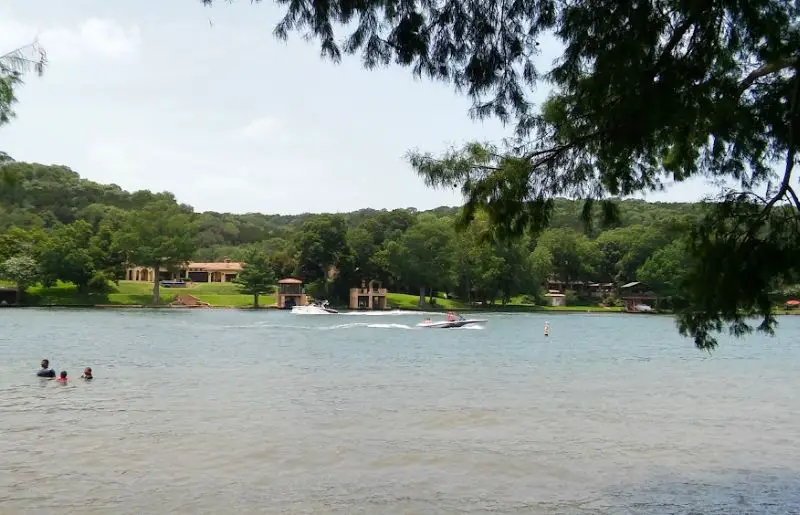 To the shores of Lake Austin, about 30 minutes from downtime Austin, is the Emma Long Metropolitan Park.
If you are on the lookout to find beaches that allow your furry friend in, look no further than Emma Long Metropolitan Park. The place is pet friendly as long as it is on a leash.
The park is a little-known place in the Austin Hills, mostly less crowded. The hikes are easy and give you a fantastic opportunity to camp with your RV.
The park has a wide variety of activities to keep you busy, like swimming, bike trails, hiking, kayaking, and more.
As for the entrance cost, it is $5 per vehicle from Monday to Thursday and $10 per vehicle on holidays and weekends.
Address:
600 City Park Rd.,
Austin, TX 78730
Roy Guerrero Park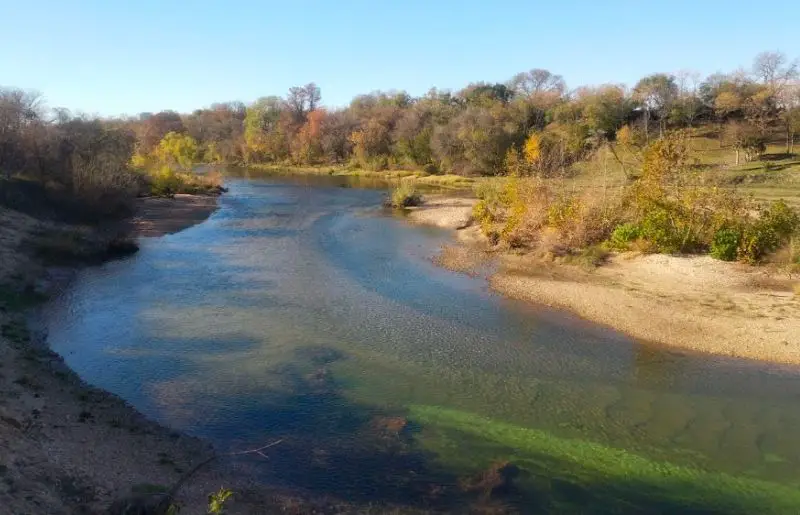 Just 15 minutes from downtown Austin is Roy Guerrero Park, which you can visit to escape from your daily schedule and take your furry friend for a walk. First thing first, you are not allowed to swim in this place.
You can take your dog for a walk as long as they are on a leash.
After you park your vehicle on the lot, you will take a short trek to reach the place. If sand castles are your thing, don't forget to sculpt something on the sandy beach along the Colorado River.
Roy Guerrero Park is yet another park that offers free entry to both adults and kids alike.
Address:
400 Grove Blvd,
Austin, TX 78741
Wrap Up
Be sure to include your favorite beaches in Austin in your Austin, Texas trip plan ASAP!
Also, do not forget to pack sunscreen, swimming wear, shades, and other accessories before you head out.