Cruise ship pools are a significant attraction for many travelers looking to relax and unwind on their vacation.
With cruise lines offering more onboard amenities than ever before, heated pools have become a popular feature that passengers seek out when booking their cruise.
But are all cruise ship pools heated? And does it depend on the cruise line?
This article will break down heated pool policies across major cruise lines, including Royal Caribbean, Disney Cruise Line, Norwegian Cruise Line, Princess Cruises, P&O Cruises, and MSC Cruises.
Read on to find out if the pools will be warm enough on your next cruise!
Are Cruise Ship Pools Heated?
Yes, the majority of cruise ship pools are heated to some extent. The specific temperature varies by cruise line, ship, and itinerary, but most mainstream cruise lines heat their main outdoor pool in the pool deck to 75-86°F. Hot tubs are typically heated to the maximum allowed 104°F.
Heating allows cruise passengers to enjoy swimming and soaking even on cool-weather sailings like Alaska or Northern Europe.
The amount of heating depends on the climate, with ships in the Caribbean requiring less than those in the Baltic regions.
But cruisers can count on pleasantly warm pool water for sea day enjoyment across cruise lines like Royal Caribbean, Norwegian, Disney, Princess, and more.
Are Royal Caribbean Cruise Ship Pools Heated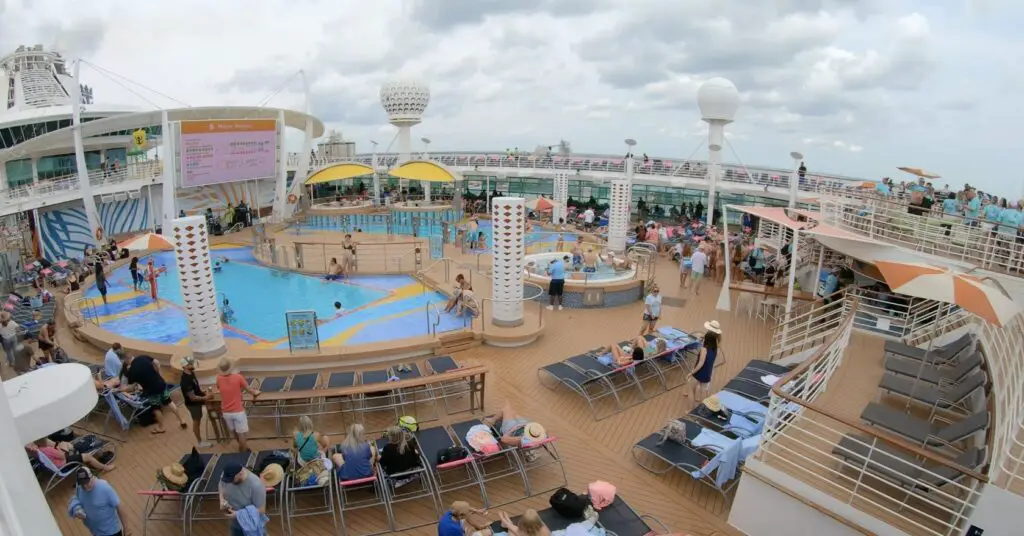 Royal Caribbean is known for having some of the best pool scenes at sea, with most of their ships featuring multiple pool areas and whirlpools.
The main pools on Royal Caribbean ships are heated, ensuring the water temperature is comfortable for swimming throughout your cruise.
The kid-friendly pools, such as the H2O Zone on Oasis-class ships, are heated to around 82°F.
Main adult pools are generally heated to around 86°F. And hot tubs are even warmer, usually 102°F to 104°F.
For the most part, Royal Caribbean cruises in tropical climates year-round, so pool heating may only be necessary on cooler sea days.
The pools may be heated more substantially in cold weather regions like Alaska. Otherwise, the warm Caribbean sun is often enough to keep the pool water comfortable on Royal Caribbean cruises.
The solarium pools, enclosed adults-only spaces are also heated as necessary depending on the climate.
So you can count on Royal Caribbean's pools being heated to bath-like temperatures to enjoy on sea days and in port. Just don't expect pool water to be as warm as the hot tubs!
Are Disney Cruise Pools Heated
Disney Cruise Line is all about family fun, and their pool areas are built with kids in mind.
The main pool on Disney ships is heated to around 82°F and designed in a shallow depth perfect for kids to splash around.
Disney has infant splash zones with even shallower heated water at around 80°F.
For adults, pool bars and jacuzzis are typically heated to about 101°F to 105°F. The adult pool areas on Disney ships are on the Quiet Cove deck and feature infinity pools with ocean views. These adult pools are heated as climate needs, usually from 84°F to 86°F.
Disney cruises sail year-round to the Bahamas and seasonal itineraries to Alaska, Northern Europe, and the Mediterranean. So pool heating depends on the destination.
Alaska cruises will have the warmest pool and hot tub water temperatures of approximately 90°F.
While varying slightly by ship and itinerary, Disney cruisers can expect pleasantly heated pool water for kids and adults to enjoy their day at sea without getting chilly.
Just pack the swimsuits, and don't worry about freezing dips in the pool!
Are Carnival Cruise Pools Heated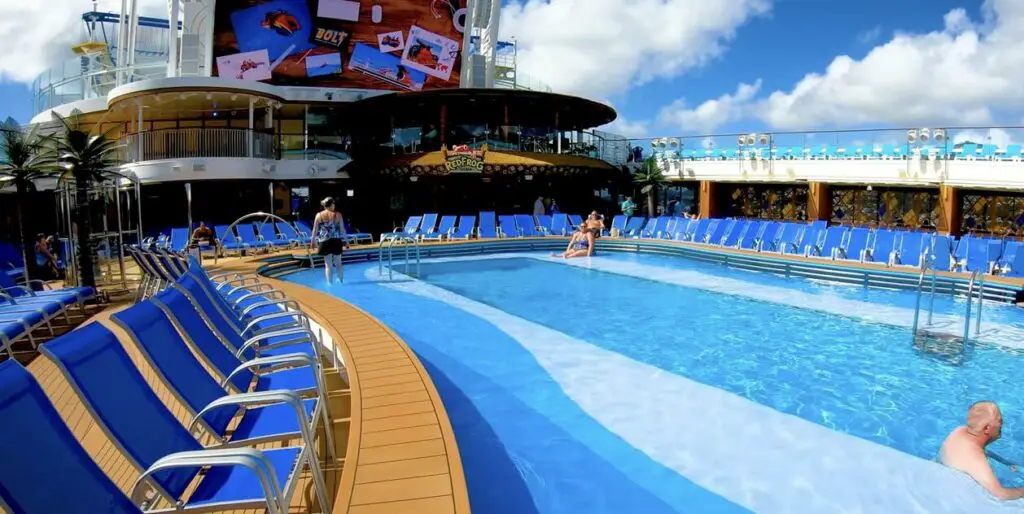 Carnival Cruise Line ensures passengers can enjoy their time at sea with warm, inviting pool areas. The majority of Carnival ships, including the aged one, feature at least one main midship pool that is heated for comfortable swimming in various climates.
The typical temperature of the main Carnival cruise ship pools ranges from 82°F to 86°F depending on the ship and itinerary.
In warmer southern climates like the Caribbean, the level of heating needed is lower than on sailings to Alaska or Northern Europe. But Carnival heats the main pools sufficiently so that guests can take a pleasant dip on any sea day no matter the destination.
In addition to the main pools, Carnival offers adults-only Serenity areas with heated jacuzzis and pools regulated around 84°F. Kids can enjoy heated wading areas around 80-82°F in the WaterWorks splash zones.
And Carnival's hot tubs by the main pools are always hot, capped at the maximum safe temperature of 104°F per health codes.
By investing in pool heating, Carnival Cruise Line ensures a comfortable water temperature is maintained across their fleet. While specifics vary, cruisers will find at least one heated pool option on every Carnival ship.
So guests can relax in the pool without getting chilly even on cooler weather sailings. With plenty of warm water to go around, the hardest part is getting out!
Are Norwegian Cruise Pools Heated
Norwegian Cruise Line has a relaxed, resort-style vibe with plenty of activities centered around the main pool deck. Their newer Breakaway-Plus and Prima class ships have up to five outdoor pools for passengers to enjoy.
Norwegian keeps their pool water temperatures between 82°F to 84°F depending on the ship and location.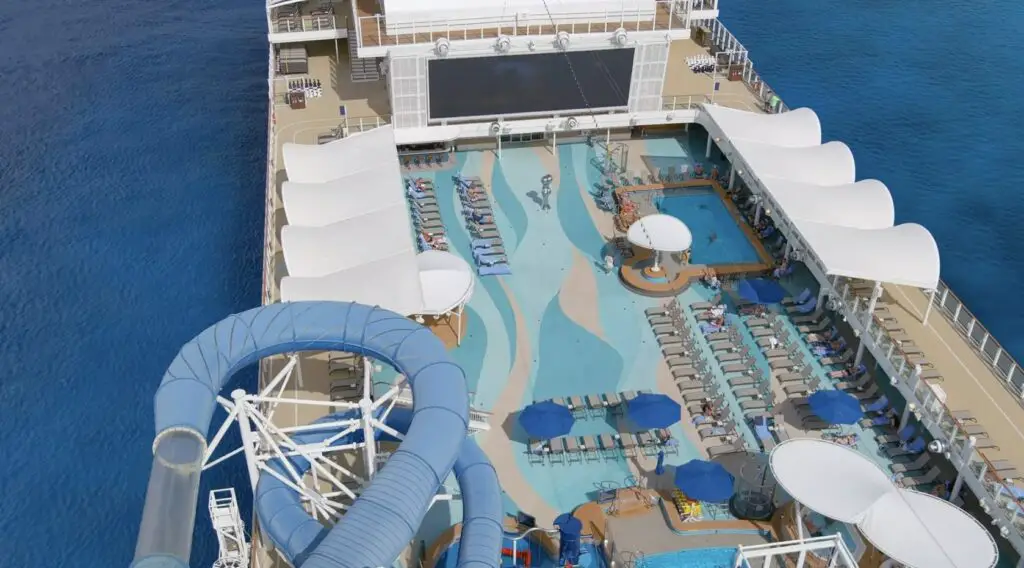 The temperature is warm enough for swimming on sea days in tropical climates without going overboard on the heating bills. Spas and hot tubs are always heated up to the maximum 104°F allowed by health regulations.
For Alaska sailings and other cold weather voyages, Norwegian Cruise Line may raise the pool temperature by a few degrees.
The Haven courtyard pools on some Norwegian ships are also heated a bit warmer since they are reserved for suite guests. Standard pools typically range from 80°F to 84°F on all Norwegian's ships worldwide.
No matter if you're sailing the Caribbean, Baltic or Mediterranean, Norwegian's pools will be heated sufficiently to relax in comfort. Just be aware that some outdoor pools may feel brisk on especially windy days at sea. But you can always warm up afterward in the hot tub!
Are Princess Cruise Ship Pools Heated
Princess Cruises is known for offering a range of onboard activities including multiple swimming pools. Their newer Royal-class and Sky-class ships have up to 5 pools available on the pool deck.
All Princess Cruises ships have at least one main outdoor pool that is heated during cooler weather or itineraries.
The main pool is generally heated to 82°F to 84°F although this can vary slightly depending on the specific ship. The other outdoor pools are unheated but often warm enough in tropical climates.
Hot tubs on Princess Cruises range from 101°F to 104°F and offer plenty of cozy spots to soak on chilly sea days.
For kids, the Splash Zone on most Princess ships has a wading pool that is heated from 80°F for toddlers up to 82°F in the kids pool area. Princess also has adults-only pool in the Sanctuary area that is heated seasonally.
While heating may depend on the ship's itinerary, Princess Cruises ensures their ships have at least one heated pool available. This way passengers cruising to Alaska, Northern Europe and other cooler regions still have the option of comfortable pool time if they wish.
Bring your swimsuit to relax in a blissfully warm pool or hot tub on your next Princess cruise!
Are P&O Cruise Ship Pools Heated
P&O Cruises is a British cruise line that offers itineraries in Britain, the Mediterranean, Scandinavia, the Caribbean, and Australia. With such a wide range of destinations, are the pools heated?
The answer is yes – P&O cruise ship pools are heated when necessary depending on the climate. For cool weather European cruises, the pools are heated from 80°F to 82°F generally. Caribbean or Mediterranean sailings only require pool heating on unusually cool sea days.
Hot tubs aboard P&O cruise ships are always piping hot around 101°F to 104°F. There are also indoor pools available on some ships that are heated up to 86°F year-round. Outdoor pools typically range from unheated to a maximum of 82°F for the main pool on each ship.
So while P&O Cruises offer ships best suited to either warm or cool weather sailing regions, passengers can take a dip in a heated pool no matter the destination.
The pools are heated enough to be refreshing without overdoing it, as energy usage is a factor. But on sea days in the Med or Baltic, the heated pools are pure bliss!
Are Pools Heated On MSC Cruise Ships
MSC Cruises originated in Italy and offer European style cruising with a cosmopolitan atmosphere. Their large mega-ships are packed with amenities and activities – including expansive pool areas.
MSC ensures their main outdoor pools are climate-controlled and available for use in all weather conditions.
The pools feature integrated heating systems and are regulated between 80°F to 84°F approximately. Variable speed pumps and sensors enable MSC to fine-tune the desired temperature.
Whirlpools and hot tubs on MSC Cruise ships are always hot, at maximum safe temperatures around 104°F. MSC ships based in the Caribbean may have minimal pool heating needed. But ships sailing Northern Europe or the Mediterranean use more extensive heating to keep pools comfortable.
With pool complexes spanning multiple decks and thousands of gallons on bigger MSC ships, regulating temperature is a breeze.
MSC cruises can rely on pleasantly heated outdoor pools on port days and sea days alike thanks to the line's advanced heating technology. Take a swim any season on MSC!
FAQ About Cruise Ship Pools
Still have questions about cruise ship pool heating and maintenance? Here are some frequently asked questions:
Are Cruise Ship Pools Salt Water?
Cruise ship pools are filled with regular fresh water, not salt water. The water is continuously filtered and sanitized rather than using salt as a natural disinfectant. Salt water pools require much more maintenance to uphold sanitation standards with thousands of passengers. So most cruise lines opt for traditional chlorinated freshwater pools.
Do Cruise Ships Use Sea Water In Their Pools?
Cruise ship pools do not use sea water directly from the ocean. The salt content would be too high and sea water does not have the clarity needed for safe swimming pools. Additionally, it's cost prohibitive for cruise ships to thoroughly desalinate and sanitize massive amounts of sea water just for pool use. So fresh water is supplied on board and regulated for purity and sanitation.
Wrap Up
After reviewing all major cruise lines, it's clear that heated pools are the norm in the cruise industry today.
Modern ships are equipped with advanced heating and filtration systems to maintain comfortable pool temperatures worldwide.
While specifics vary slightly between cruise lines, you can expect pleasantly warm water for swimming on any sea day. Just watch out for kids monopolizing the hot tubs!
Heated pools allow cruisers to enjoy pool time even in Alaska or Northern Europe without freezing.
Cruise lines invest in top equipment to heat efficiently according to climate. For the most consistently cozy pools, look for ships sailing warm weather regions year-round. But you're sure to find a heated dip ready anytime on a cruise.
So go ahead and pack the swimsuits – there's a warm pool waiting on your next cruise! Heated pools offer the chance to relax in true vacation style no matter the destination. Happy cruising!