Did you know an upside down pineapple has some secretive hidden meaning that I bet not a lot of people know!
By the end of this article, you will be blown away by the meaning of upside down pineapple on cruises, hotel rooms, or elsewhere
An upside down pineapple means people are into having adult fun with strangers couples. In simple terms, it indicates people are up for couple swapping or wife swapping.
Upside Down Pineapple Meaning Revealed
Upside down pineapple is a symbol swingers use to identify each other, mainly on a cruise ship. They may wear dresses with upside down pineapple patterns or stick upside down pineapple stickers on the cabin door to invite fellow swingers on board.
Swinging, aka partner swapping is when a couple mutually agrees to involve in adult fun or sexual activities. A person may swing with another man's wife, if both of them are entirely okay.
Identifying swingers on a cruise ship or land can become difficult. You can't ask anyone directly. This is the reason why people indirectly use a pineapple as a sign to identify swingers secretly.
But not all instances of upside down pineapple mean the same thing. You can't immediately tell a person's intention just by looking at the upside-down pineapple on the dress they wear. There are a lot of variables that go behind it.
How to Identify a Swinger on a Cruise Ship?
The easiest way to find a swinger on a cruise ship is to look for obvious signs like an upside down pineapple.
Pineapple on Cabin Door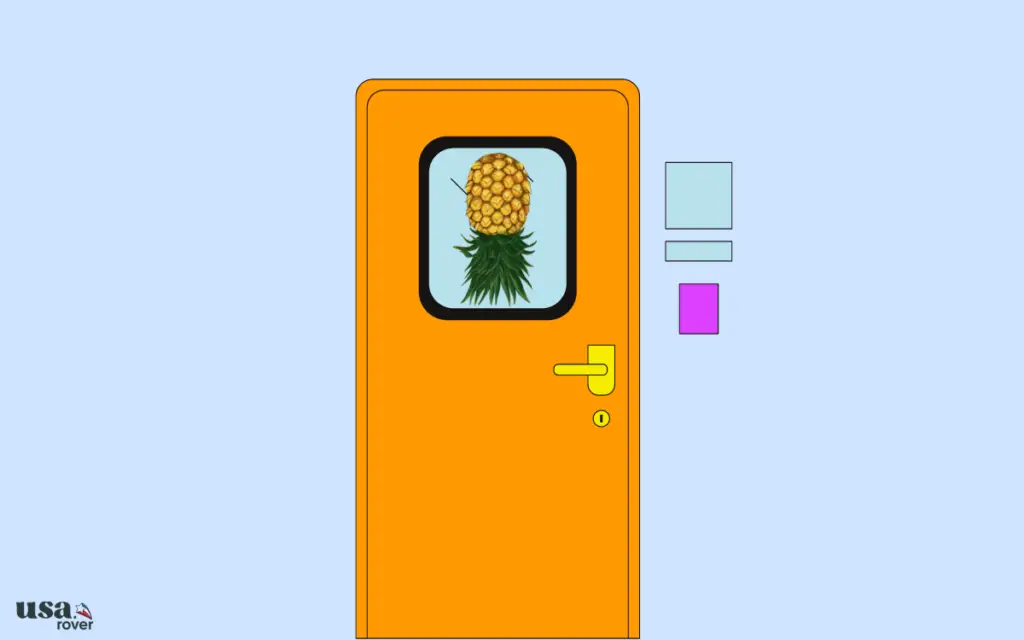 People who are into partner swapping or swinging may have pineapple stickers, badges, or pins on the cabin doors.
If you find a pineapple sticker or pin attached to a stateroom door, it most likely means the person inside is actively looking for a swinger for company.
As a modern-day cruise ship have more than 1,000+ cabins, it becomes increasingly more difficult than ever to spot a swinger by looking at the pineapple pin on the door.
Pineapple Themed Dresses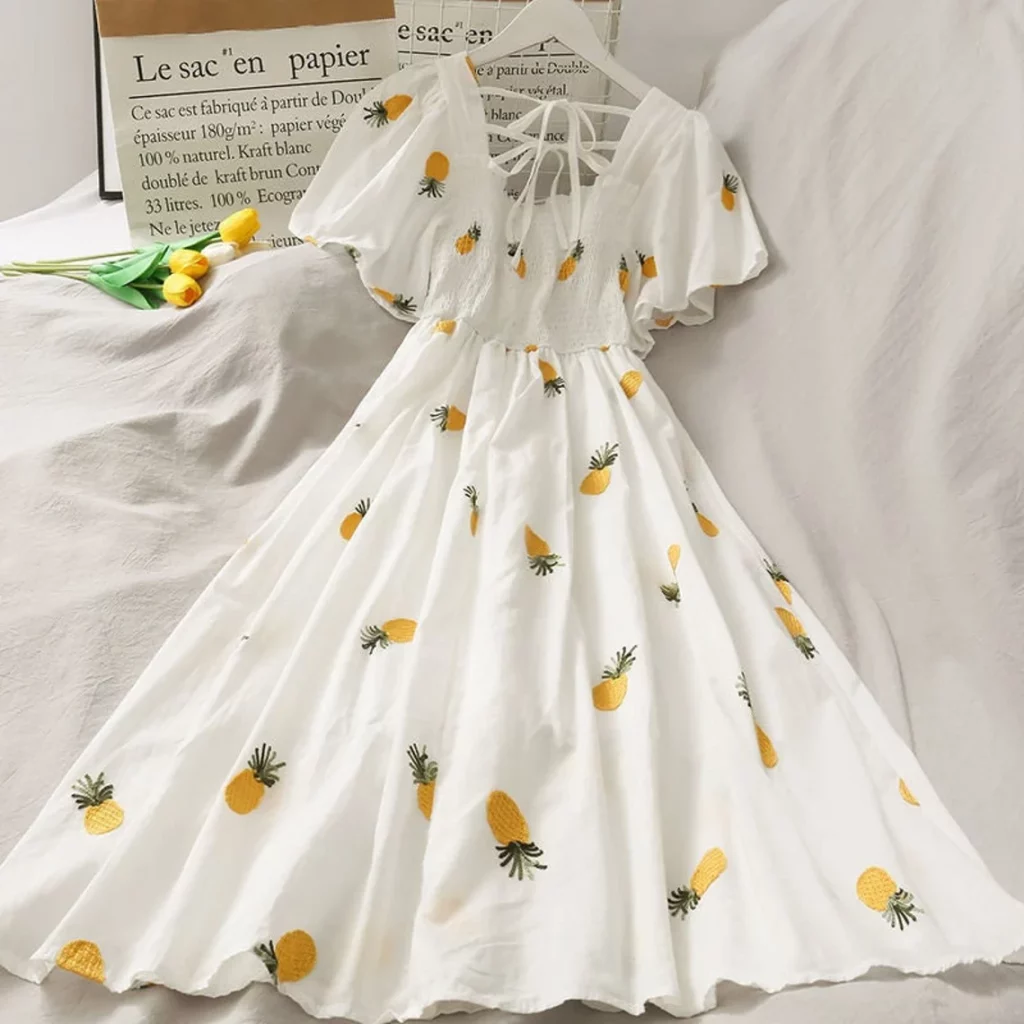 People who are into partner swapping are generally considered to wear dresses with pineapple. If you find a person wearing dresses with pineapple graphics, badges or pins, then it is most likely that the person might be interested in partner swapping.
But you have to be extremely cautious when approaching a person who wears a pineapple dress.
Many people may wear a dress with pineapple graphics, without any intention behind it.
Planned Meetups
There are plenty of forums, groups, and communities exclusively for people who are into partner swapping and swinging.
They may occasionally host a partner swap party on a cruise ship or let other people know when they are about to go on a cruise.
Similar people can message each other and decide to meet on board to have adult fun beforehand.
You may find groups or communities on various social media platforms, including Facebook, Reddit, etc.
Some people may ask if anyone is sailing on a cruise ship on popular cruise ship communities and groups. If you find someone is asking if anyone else is traveling on a particular cruise with a 🍍 in the post, be rest assured that a person is into it.
Upside down pineapple on land
Not just on cruise ships, you can also find people searching for swingers on land.
If you find the front door of a house has a pineapple sticker or an actual pineapple is placed on the front porch, or near the door, it means the person is planning to host a swinger party.
Is swinging on a cruise ship allowed?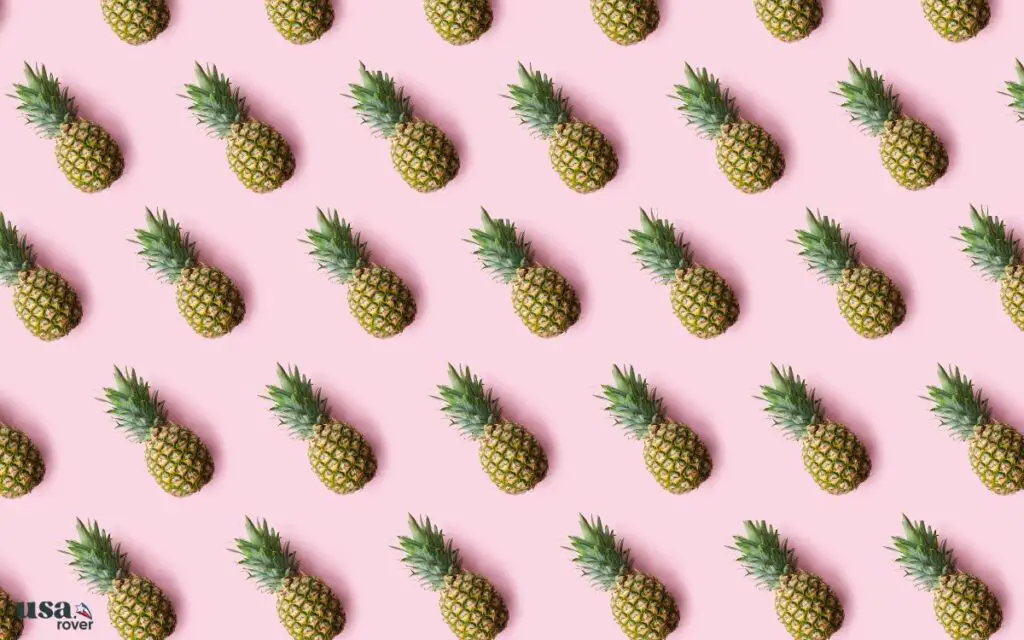 Swinger parties regularly take place on normal cruise as well as nude cruise.
Some of you will be surprised to know that there are dedicated nude cruises where clothing is optional all day or night.
People mostly go sailing only on nude cruises just as to enjoy the adult fun.
Swingers are also found on standard cruise ships. While they may not explicitly let others know, they give obvious signs that other singers could pick up easily.
The first cruise ship for swingers was launched by YOLO Cruises back in 2008. Ever since then, a lot of nude cruises have popped up all around the globe.
Clothing With Pineapple
As mentioned earlier, pineapple is a symbol used by swingers to secretly identify each other. Clothing with the pineapple is yet another way they may distinguish each other from others.
But does that mean everyone wearing dresses with pineapple are swingers?
Absolutely no!
Pineapple is like any other fruit. You may find people on board wearing dresses with pineapple graphics. They won't have any other dirty intentions behind them.
You might find tons of T-shirts and shorts with pineapples online. If you are into swinging, you may get one from Amazon.
When going through some popular cruise forums, I did notice some people mention they got some weird stares from people while they wore dresses with pineapple without knowing the secret meaning.
History of Upside Down Pineapple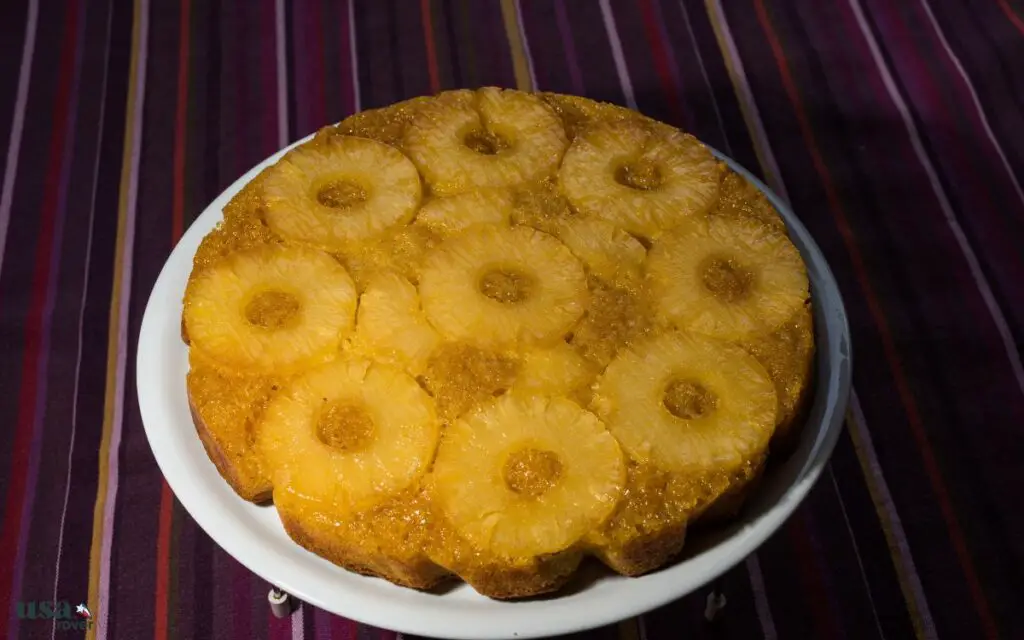 Now that you know a lot about upside down pineapple, you will be more curious to learn where it all originated and the history of upside down pineapple.
Firstly, no one knows precisely where the whole concept of upside down pineapple originated. But we do have some facts and hints.
In the early days, the upside down pineapple was associated with the Hawaiian hospitality for a reason. Let's look at it.
Hawaiian people are generally considered very welcoming and friendly. A specially baked pineapple cake is served when a guest visits them.
To bake the cake, they first make a layer of sliced pineapples on the bottom of the cake-baking tray. Then add the cake batter and bake it. Once the cake is fully baked, they flip it so the pineapple slices show up to the top.
As pineapple is a sign of hospitality and a welcoming mindset, swingers started symbolizing pineapple to find people with similar interests.
Pineapple Drink
Certain cruise lines like P & O Cruise serve pineapple drinks in a pineapple shaped cup.
I first learned about it when a person shared the same on his Twitter handle.
The pineapple drink is served on an upside down looking bronze-colored pineapple cup.
The pineapple drink served on the cruise ship is in no way related to swinging. So everything Pineapple you see on a cruise ship does not translate to the same thing.
How Swingers Use Upside Down Pineapple?
As you already know that even though pineapple has a meaning related to swinging, not everything relates to it.
A person may wear a pineapple dress on board even though they are not a swinger. A person may order a pineapple drink on the cruise ship, and it may be served in a pineapple shaped cup. Even this doesn't mean anything related to swinging.
Since not every pineapple means the same thing, you might be confused about how they identify each other.
Let's look at their top secret.
To secretly identify, these swingers hang a pineapple sticker, badge, or pin upside down.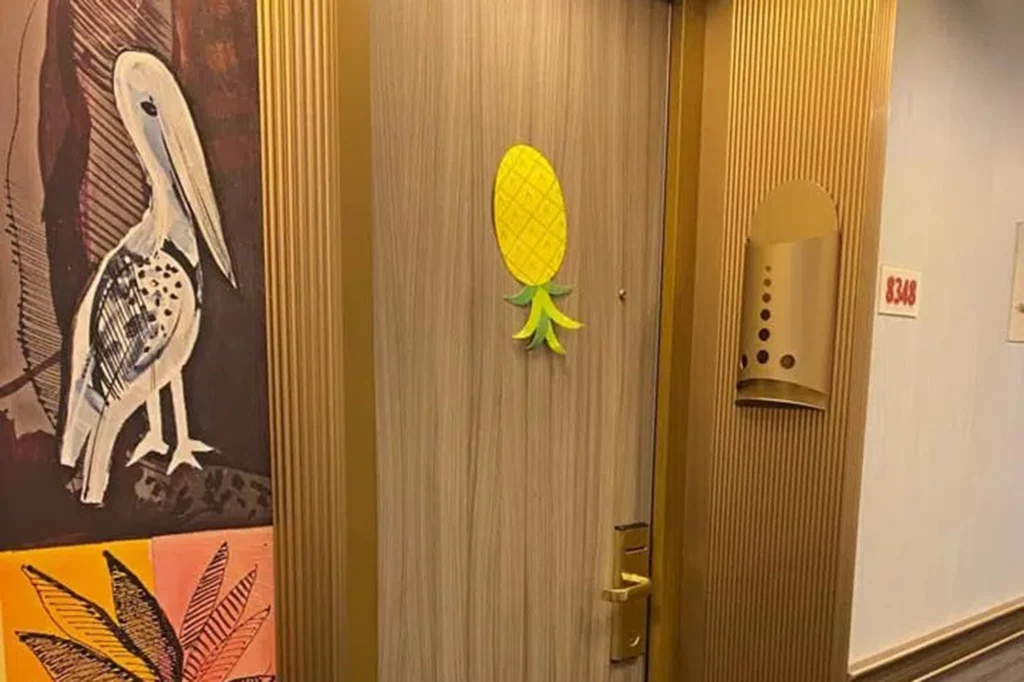 Swinger Cruises
Swinging is a common thing on cruise ships. There are dedicated cruise ships like Bliss Cruises or Couple Cruises for swingers to engage in kinky activities.
People on a swinger cruise all pretty much have the same mindset and are on board for swinging. Chances are, one will not struggle hard to find a swinger on a swinger cruise ship.
Well, how will you find swinger cruises near you?
Websites like TheSwingerCruise, Dream Pleasure Tours, etc., focus specifically on swinger cruise ships. You may visit such websites to find more details about swinger cruises.
Swinging is not that common when it comes to normal cruise ships.
Symbols Used By Swingers Like Upside Down Pineapple
An upside down pineapple is one of many secret symbols used by swingers to identify other swingers. There are various other secret symbols they use. Below are some of them.
Black Ring
If someone is wearing a black ring on any finger on the right hand except the middle finger, it strongly means that the person is a swinger. They may be trying to converse with other people to find swingers for company.
Pampas Grass
If you find pampas grass grown on a person's porch, it most likely means they are part of the swinger community—the history of Pampas Grass that is related to swinging dates the back to early 1970s.
Many people who were not swingers did grow pampas graded on their porches. But ever since it became more popular, people started slowly getting rid of it from their porches.
Pink Flamingos
Pink flamingos are yet another secret symbol used by swingers to identify each other. Compared with upside down pineapple, pink flamingo is not that popular. But if you find it, the chances are high that the person is a swinger.
Frequently Asked Questions
Below are some frequently asked questions about upside down pineapple and its secret sexual meaning.
What does an upside down pineapple mean sexually?
An upside down pineapple means people are looking for swingers to have adult fun. Partner swapping or wife swapping is a common thing to many. People who are into it use an upside down pineapple to secretly identify each other.
What does a pineapple tattoo mean?
If a person has a pineapple tattoo, it could mean many things. Just because the person has a pineapple tattoo doesn't mean they are a swinger. Many people get a pineapple tattoo just for fun. While it is also possible that the said person is a swinger as well. If the pineapple is tattooed upside down, chances are high for the person to be a swinger.
What does the pineapple emoji mean?
A pineapple emoji have many meaning depending on the context it is used. People often use pineapple emojis to let others know they are in open relationships explicitly. If a person posts a post on a social media group or forum with a pineapple emoji, they are actively looking for swingers.
Many people add the pineapple emoji to their social media profile bio to let others know they are a swinger and anyone is welcome to message them.
What does pineapple mean on Tinder?
People generally use a pineapple emoji on Tinder when they are in a complicated relationship or are into open relationship. On the other hand, people who are swingers may also use the pineapple emoji on Tinder.
Just because a person has a pineapple emoji on their Tinder profile doesn't mean bad.
Should I wear a pineapple dress?
There is nothing wrong with wearing pineapple dresses on cruise ships or land. But the problem is that you will attract many more eyeballs than usual. Since the whole upside down pineapple thing is getting more attention than ever, more people are aware of it, all thanks to TikTok.
You should also expect people to ask you if you are also into swinging silently. Other swingers may try to hit up you as well.
Is there a cruise ship for swingers?
There are various lifestyle swinger cruises and nude cruises. The first of its kind was launched back in 2008. Couples into partner or wife swapping generally go on nude and swinger cruises. They don't prefer regular cruise ships as there are a lot of restrictions.
Where did the upside down pineapple trend start?
The upside down pineapple originates from Hawaii. People in Hawaii used to make a dessert with sliced pineapples to welcome guests to their homes. It is a sign of welcomeness and good hospitality. A couple of years later, swingers started symbolizing it to identify swingers secretly.
Wrapping Up
An upside down pineapple is secret symbol swingers use to identify each other. One cannot directly go ahead and ask if anyone in here is a swinger, right? This is why they have some secret symbols to identify them quickly.
Swingers may wear dresses with pineapple, hang a pineapple sticker pin or badge on the cabin door, or even have an upside down pineapple tattoo.
Even more interesting is that not many people are aware of this yet. Since it is a secret symbol used by swingers, not many people know about it.
I have seen many people wearing pineapple dresses, and I am 100% sure they are not swingers. But the thing is that they don't even know pineapple has such a weird meaning.